Episode 551
August 24, 2019
Amazon is dominate in the online retail world.
This is not just because of fair prices and variety of selection.
Much of Amazon's success is due to their Prime service.
Prime comes with many premium services such as Prime Video, Music and unlimited photo storage.
These Prime services are less expensive than equivalent services elsewhere.
Netflix is $13 per month = $156 per year
Apple Music is $10 per month = $120 per year
iCloud Photo Library 200 GB plan is $3 per month = $36 per year
Just these three services total $312 per year compared to a Prime membership of $119.
Free shipping was the deal maker for my Prime Membership.
Free next day delivery to Aguanga could save me thousands of dollars.

No half hour trips to town.
No visiting 4 or 5 big box stores to check off my Things to Buy list.
All this shopping i do from the comfort of my home.
This kind of online shopping service would not be practical without an excellent return policy.
Amazon makes returning merchandise almost effortless.
For whatever reason… it doesn't fit, it's not what i expected, i ordered the wrong part, it's defective.
No questions are asked.
For some low cost items the merchandise does not even have to be returned.
For the vast majority of returns Amazon sends a code, then you take the merchandise to a UPS store where it is boxed up and sent back to Amazon at no cost to you.
All the problems of the first dot com merchandise boom and bust have been solved by Amazon.
Let's contrast this with a recent online purchasing experience that i had.
i am sorry for the following rant, but all these words should give you a feel for the experience.
While shopping for a chainsaw i stumbled across a very inexpensive Chinese made chainsaw.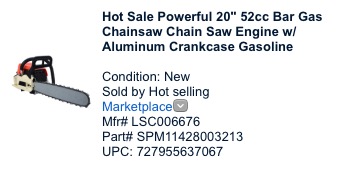 This was at Sears.com Marketplace.
Sears Marketplace is where Sears offers a venue to retailers to sell their goods.
The vendors are not directly associated with Sears, but Sears takes your money and fulfills your purchase.
i had to pay shipping, but the price was still too good to pass up.
i did wait 2 weeks to receive the chainsaw, but my project wasn't too urgent so i tolerated the shipping time.
The assembly instructions were easy enough to follow, though generic.
The startup instructions were also generic and included a Throttle lock switch which did not exist on this saw.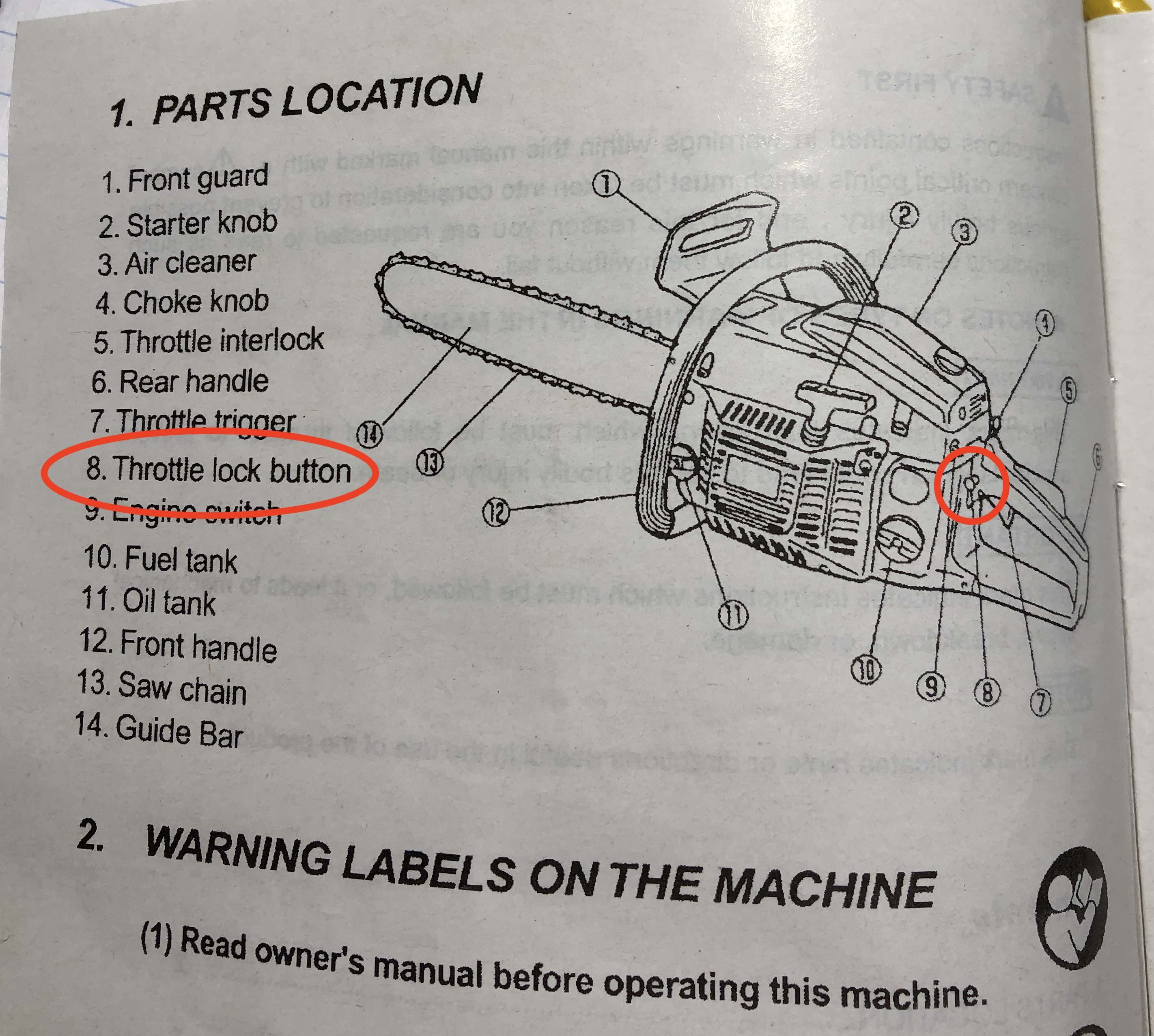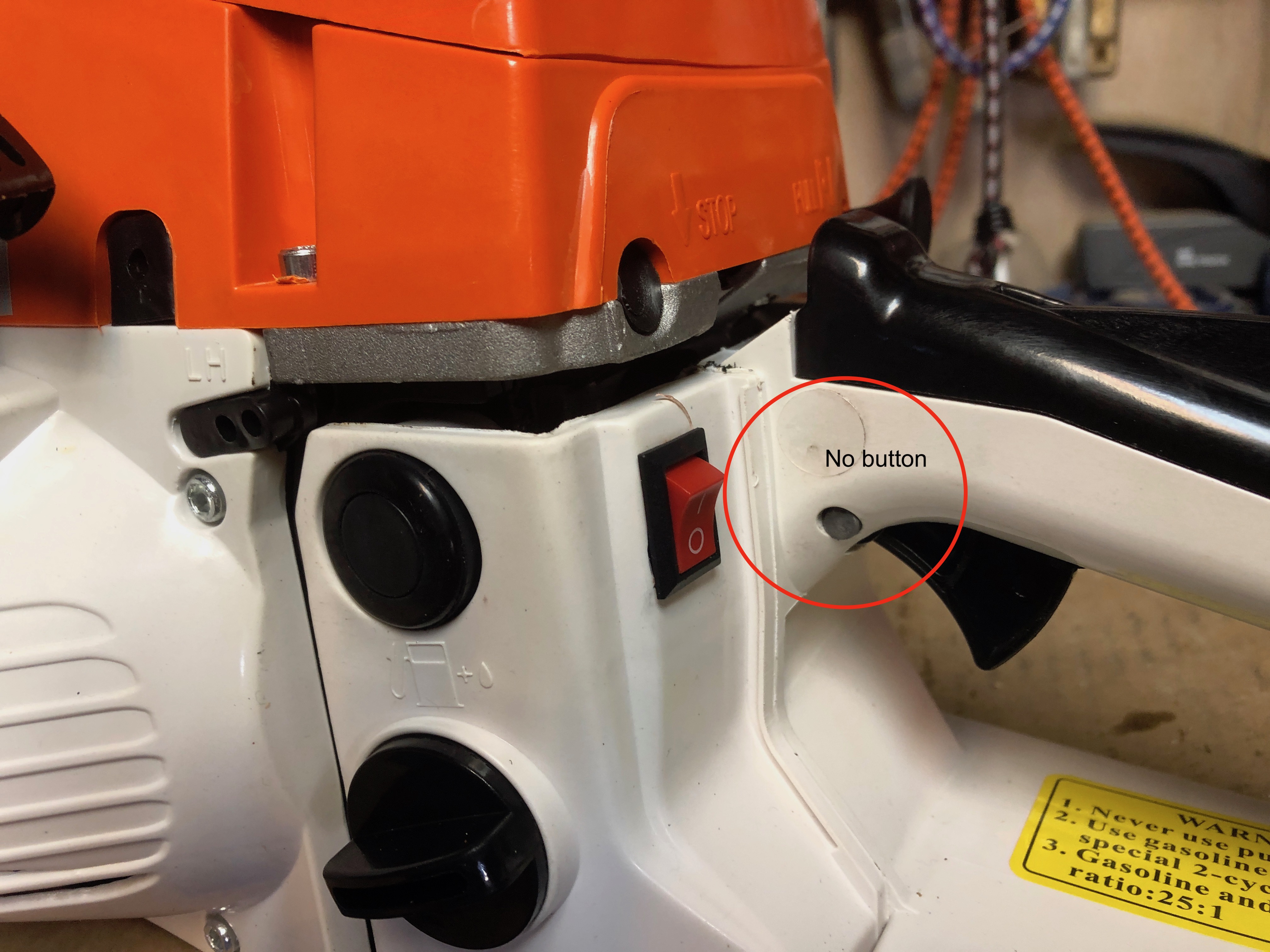 Gassed up and oiled i was ready to start my new chainsaw.
Power switch on, choke out, pull, pull, pull, pull, pull, pull, pull, pull, pull, pull, pull, pull, pull, pull, pull, pull, pull, pull.
No start.
Choke in… same results.
Chain lock on or off with choke in and out… still no start.
i contacted Sears.
Sears directed me to the Marketplace website where i was instructed to contact the vendor directly.
i did so.
The response i received was:
"Dear customer, I am sorry for the inconvenience. we didn't receive picture or video from customer If there has any problem. Could you please attach some clear pictures and video to show the problem?. After our Supplier confirm the issue, we will give you a solution"
In response i sent pictures of the missing Throttle lock button even though there is no throttle lock button on this chainsaw model.
i explained again that the saw would not start.
The supplier relayed a message from the manufacturer:
"I understand customer missed the Throttle lock button could you please equip this button from local store and keep the order? we will refund $13 as compensation for your order"
If this wasn't so pitiful it would have been funny.
The manufacturer had suggested a solution that was not even appropriate for my saw.
This i explained in another email.
Also, i asked for a full refund and to return the chainsaw since it would not start.
Meanwhile, per Sears Marketplace policy, i submitted a complaint to Sears.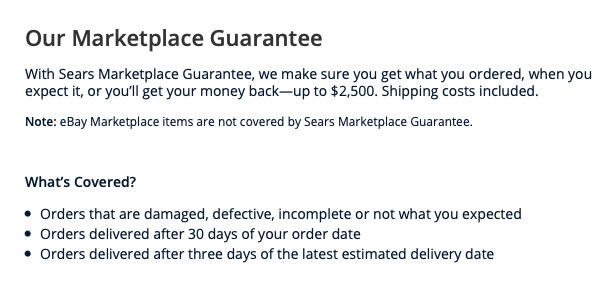 They gave me a case number and said they would contact me in a couple of days.
The chainsaw vendor responded to my email with this:
"Thank you for the update If the item can not work, Could you please attach a video of the condition and how you start it? After our Supplier confirm the issue, we will give you a solution"
Still wanting to do the right thing, i made a video of me trying to start the chainsaw and sent it off.
Unbelievably, the vendor sent back a message saying they would send me the throttle lock part and discount my purchase by $10.
i rejected this offer as inappropriate for a saw which is designed without a throttle lock. The vendor then acknowledged that this model has no throttle lock.  
They then sent a video from the manufacturer showing the removal of the spark plug and the purging of the combustion chamber as a possible solution.
Still wanting to do the right thing, i did what was shown on the video.
The saw still did not start.
One more time i asked for a FULL REFUND (yes, i am yelling now) and threatened to stop payment from my Visa card.
Under this threat, the chainsaw vendor offered a 75% refund and said i could keep the saw.
(A saw that no one in town will repair and that i will end up throwing away).
i felt like a mark at a Tijuana street stand.
By this time i was so worn down by the process that i agreed to their offer.
Five days later the refund appeared from Sears on my Visa statement. 
Meanwhile, Sears never acted on the case number that they opened.
i will use the power of social media and market place reviews to warn buyers about the Sears Marketplace and this Chinese vendor.
What passes for Customer Service at Sears is an insult to the term "Service."
Compare my experience with Sears to three clicks and a short sentence of explanation to Amazon in order to successfully return a product.