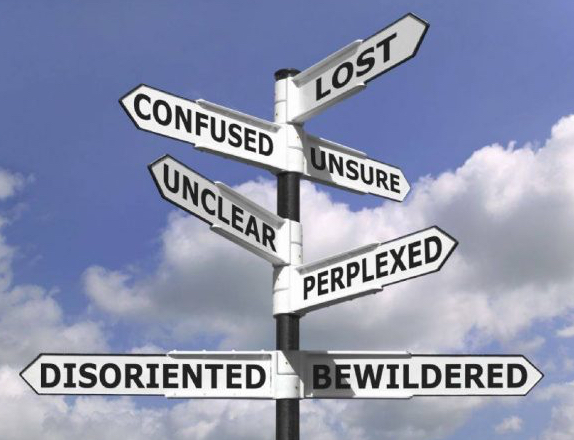 Episode #555
September 21, 2019
i use the Maps app on my iPhone as a tour guide when i am out and about.
Maps tells me where to shop, how to get there, what is the best route, when to turn, where to go for what i want to eat and how other people like the restaurant.
Last week i was following directions to home after a day trip to San Diego. i became hungry for dinner
"What restaurants are near by?" i asked the Maps app.
Maps gave me a list of restaurants.
One was the Cork and Craft.
This is a 4 star wine and micro brewery restaurant very nearby. It was very well reviewed.
"Directions to Cork and Craft."
This usurped the directions home and gave me turn by turns to a back street hole in the wall.

"Do we want to give this a try?" i asked my wife.
"Check the menu," she said.
i touched "Find out more on Yelp", then "Explore the Menu."
The menu was full of high brow dishes that did not sound good to me. i would eat charred octopus but it would get in my mouth.
"What restaurants are near by?" i asked.
Just one mile away was the C3 Restaurant and Bar inside the Radisson Hotel.
It was positively reviewed, but there was no menu and it was inside a hotel.
"Let's pretend that we are vacationing in Rancho Bernardo and hungry for dinner," said my wife.
"OK", i said. (Since that was true).
"Directions to C3."
5 minutes later we were greeted by a lovely waitress and then served a wonderful meal with recommended wine and beer that was delicious.
Well done Maps.
While in San Diego i used the public transit feature of Maps to take a bus from the marina to Balboa Park.
Maps gave me walking directions to the bus stop, the number of the bus and walking directions from the end of the bus line to the center of the park.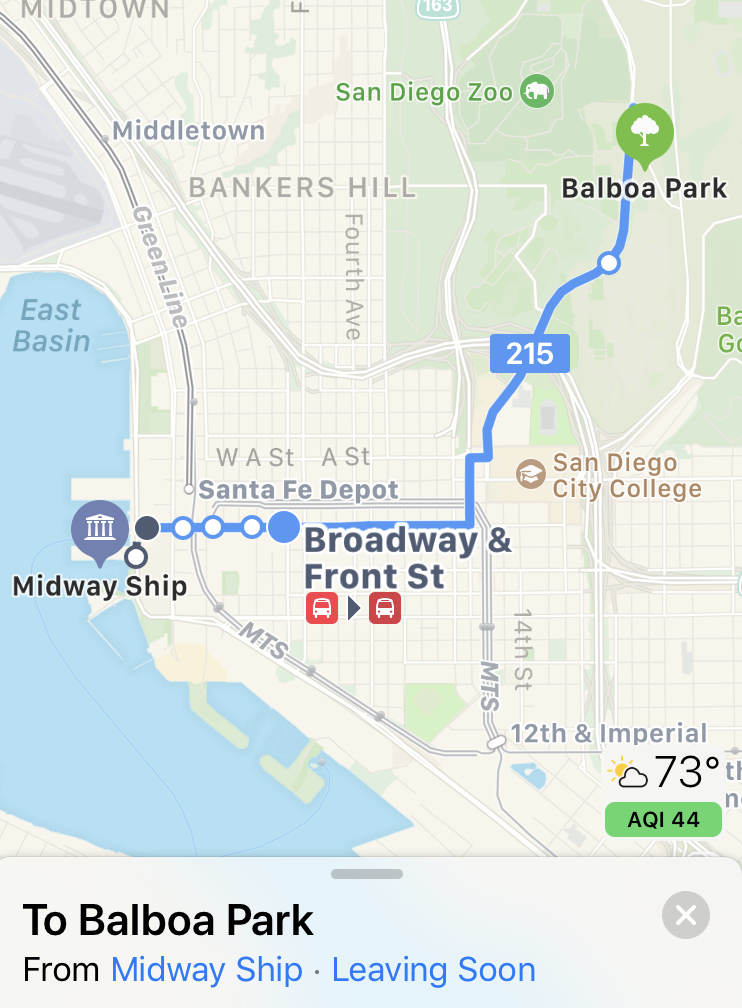 Artificial intelligence is designed with human behavior in mind.
Sometimes the programmers get it too right.
Sometimes while in the turn by turns Maps goes all human on me.
"In one mile make a left turn onto I-15 south."

Instead, i turn into a parking lot for a coffee.
"Proceed to the route."
… CONCERN.

i ignore Siri's voice, park and walk into Starbucks,.
While ordering my coffee Siri gets a little irritated.
"Proceed to the route." "Proceed to the route."
,,, IMPATIENCE.
i apologize for my Maps app, take my coffee and return to my car.
While walking back to my car Maps recalculates my trip.
Now, instead of a one hour drive my walking ETA is 20 hours.  i"m going to be late.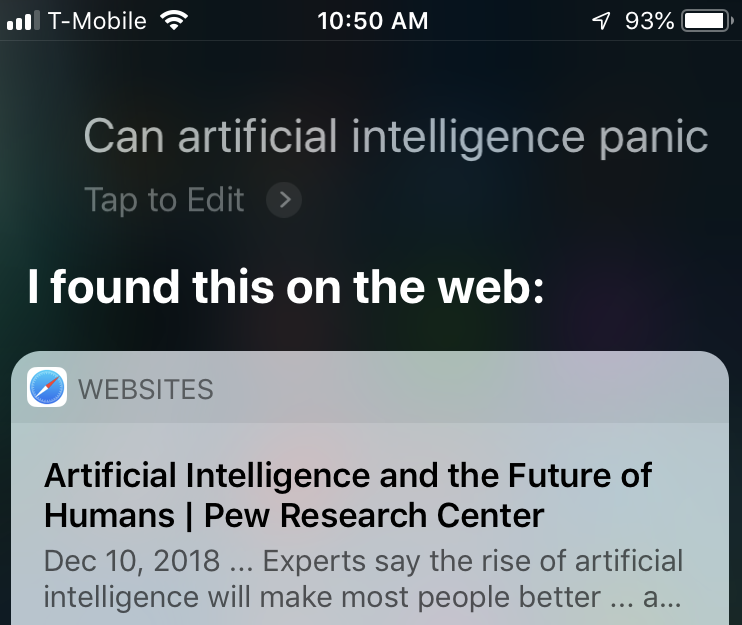 Back driving in the car Siri is becoming desperate.
"Proceed to the route. Make a legal U turn. Turn left. Turn right. Slow down. Speed up."
,,, PANIC.

Calm down Siri.  i know where the freeway is.
Listen to me.  i'm talking to an app.
Another way to know where i am is the compass app.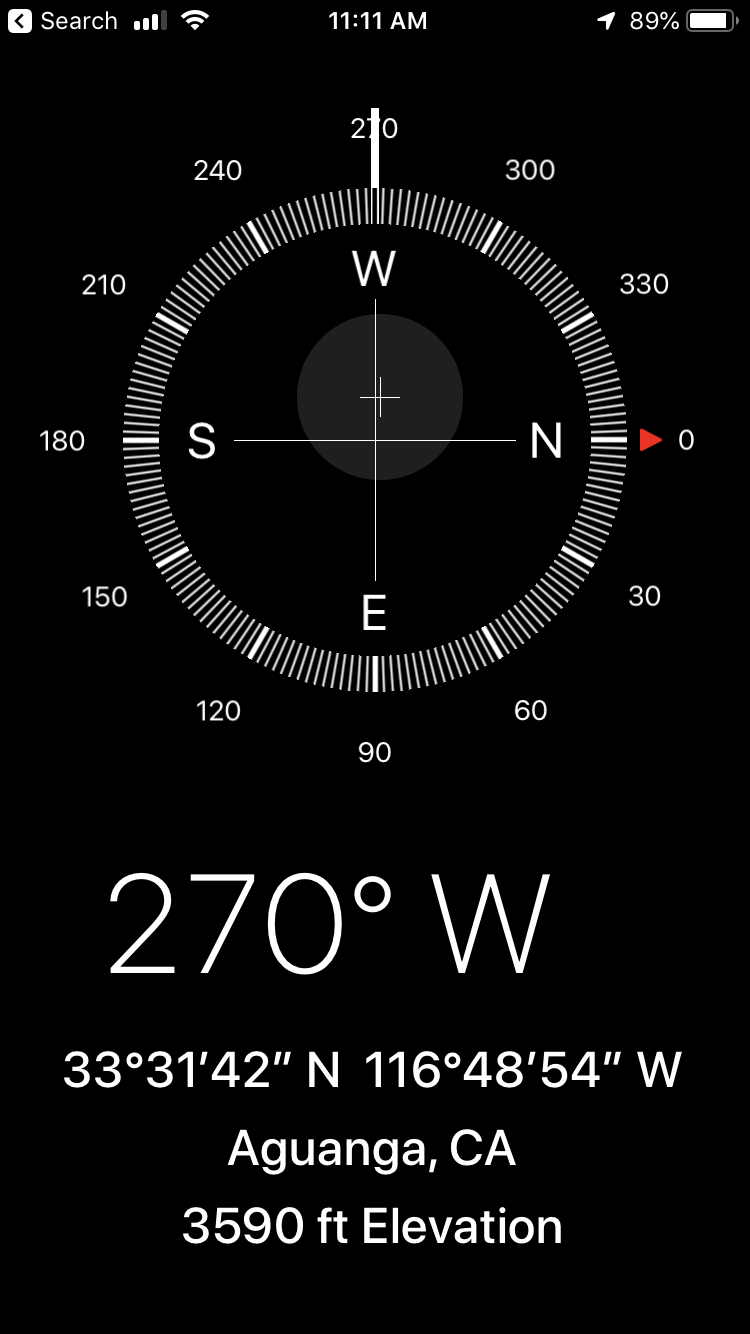 Not only will it point me north, but it will give me latitude, longitude and altitude.
Where am i?
33°31'41" N 116°48'53" W 3560 ft Elevation.
For now the compass is mercifully quiet (altitude, not attitude.)
If you have ever arrived at a location and been unable to see an address or recognize a store front Google street view can help.  i use street view to familiarize myself with my destination before i even begin my trip. Some businesses even allow you you go inside the building and view the interior.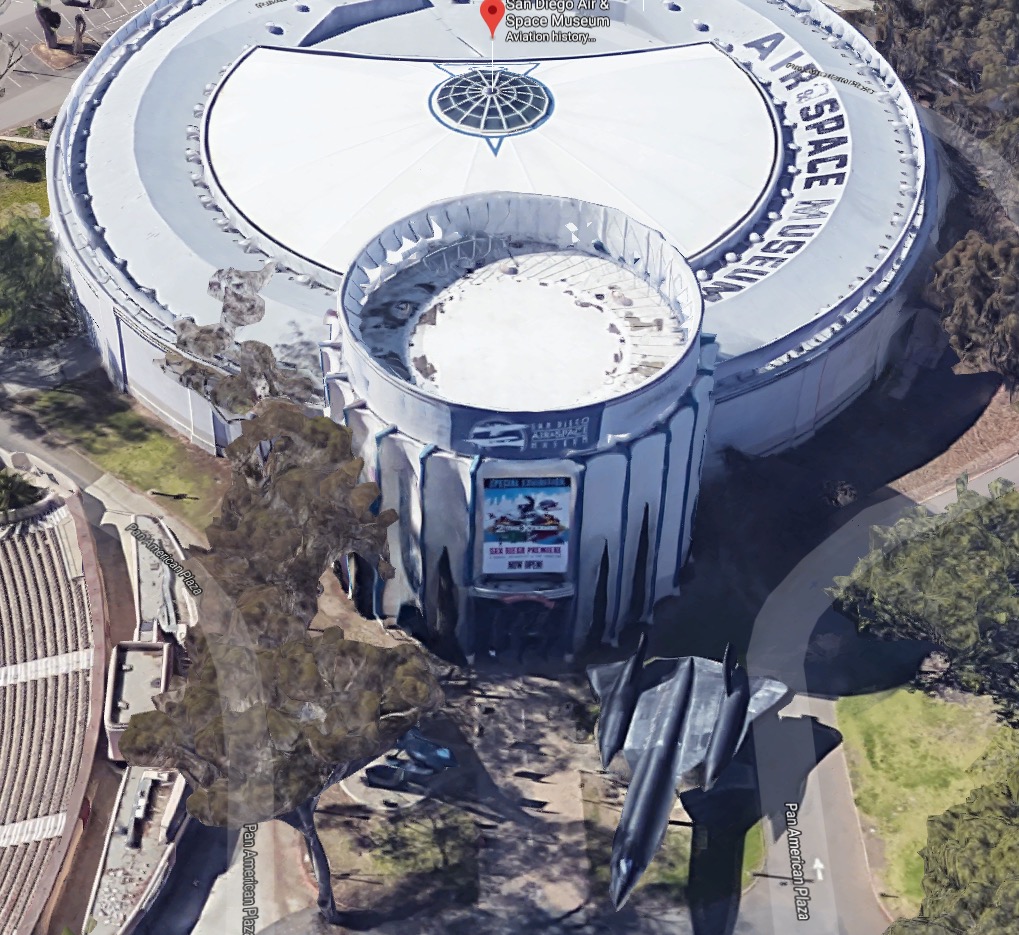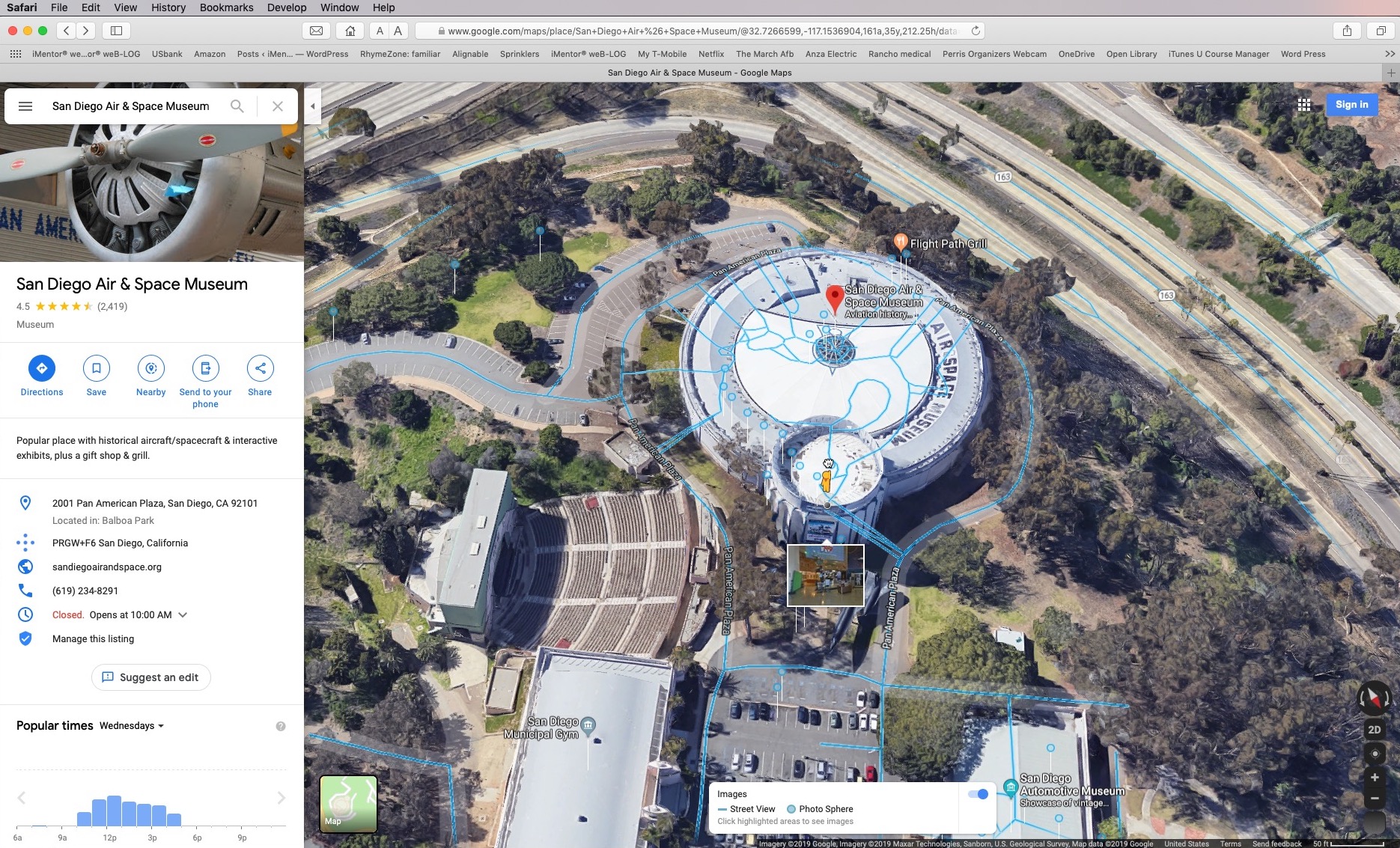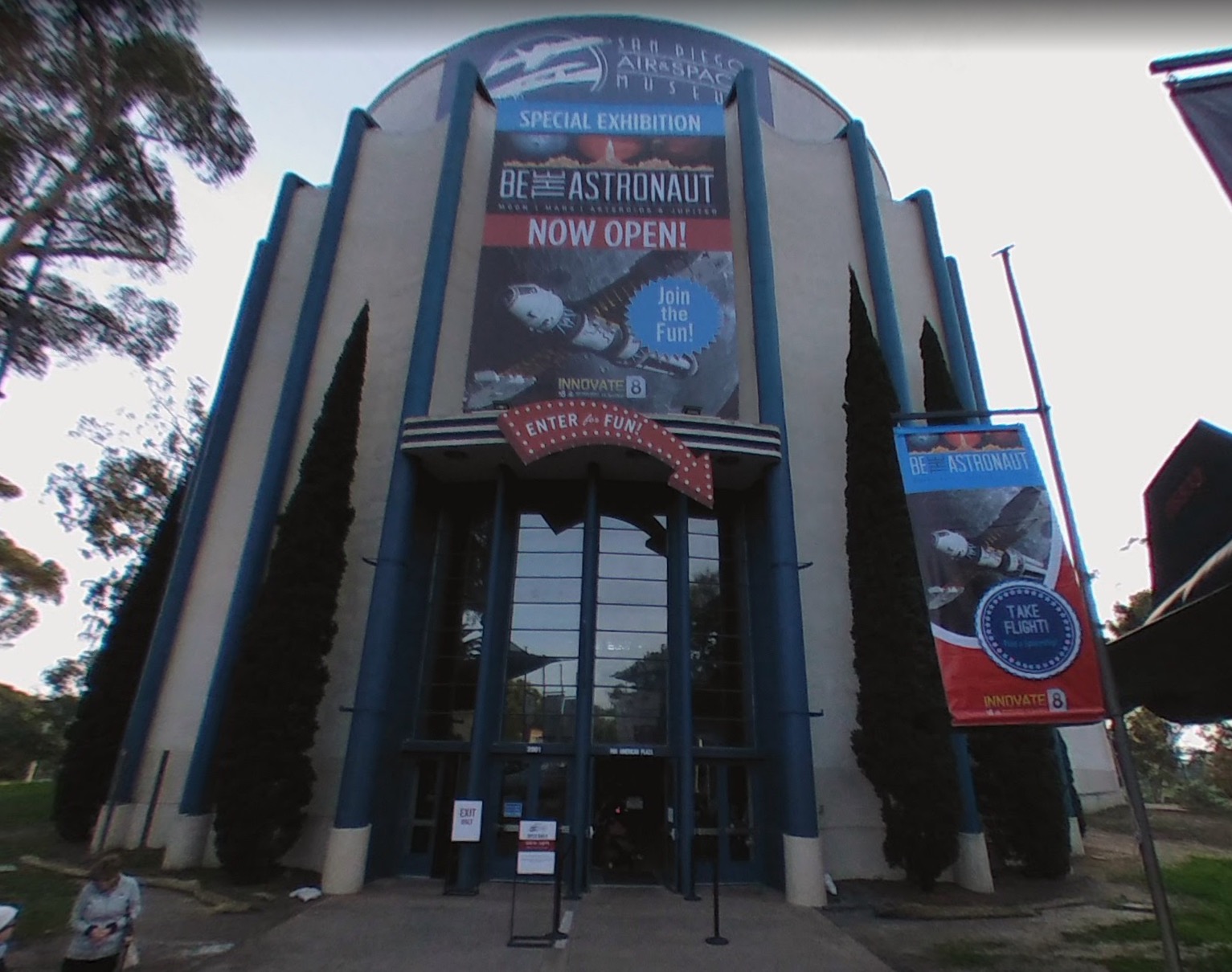 iOS 13 has a feature called Look Around which works like street view. Don't give up Google street view yet. Look Around currently has very limited imagery.
Google Earth will give you a bird's eye view of your location including the position of the bird.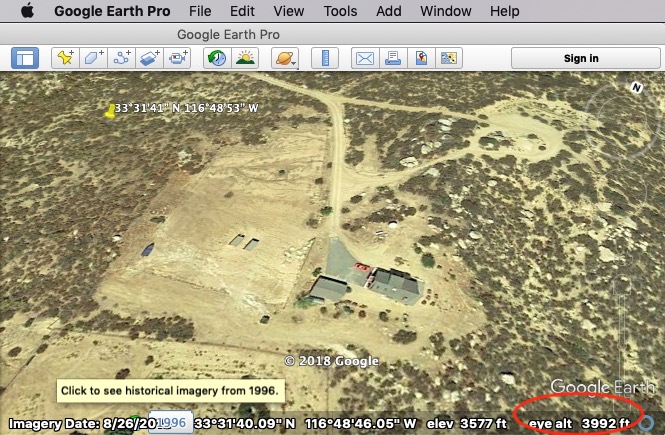 For situations where artificial intelligence becomes outspoken there is the mute button… for now.
Meanwhile, as long as i have my iPhone i known where i am.