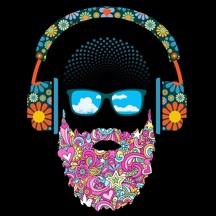 Episode #639
May1, 2021
Music shaped my morality. It taught me the elements of my character and reminds me how to stay true.
i discovered girls in the 5th grade riding my Sting-Ray home from school singing "I want to hold your hand," by the Beatles.
Later the Beatles taught me that "All You Need is Love," "Love, Love Me Do," and "Money Can't Buy Me Love."
At the high school dance i learned that a dance could be a good time to get to know a girl because "Light My Fire" by the Doors was seven minutes long.
My good positive feelings are "Good Vibrations" from the Beach Boys.
The essential need for "Honesty" in my life is sung by Billy Joel.
"Intuition" and critical thinking are found in John Lennon's lyrics.
At Notre Dame there is a woods with the stations of the cross along a path. In my head, as i walked the path, was Simon and Garfunkel's "The Boxer." As i entered a clearing where Jesus was on the cross these lyrics taught me to carry on His work:
"In the clearing stands a boxer
And a fighter by his trade
And he carries the reminders
Of every glove that laid him down
And cut him till he cried out
In his anger and his shame
"I am leaving, I am leaving"
But the fighter still remains."
Etta James singing "Trust in Me" reminds me that i should also trust others.
The Righteous Brothers taught me humility in "Unchained Melody."
Revenge was not subtle when Nancy Sinatra's "These Boots Are Made for Walkin' " stomped onto the airwaves.
Todd Rundgren's "Kindness" reminds me to be kind.
"Carry on Wayward Son" by Kansas encourages patience.
"Bridge Over Troubled Water" is Simon and Garfunkel's lesson about perseverance.
The blind faith of "What a Fool Believes" is the Doobie Brothers reminding me to dream.
"Sorry Seems to Be The Hardest Word" because apology is always hard. Thank you Elton John.
Aretha Franklin's "Willing to Forgive" reminds me that forgiveness is at the core of every relationship.
The importance of being genuine is in the lyrics of Kenny Loggins' "The Real Thing."
My ethics are laid out bare in John Lennon's "Working Class Hero."