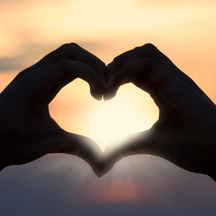 Episode #680
February 12, 2022
The One That Got Away
       (a parable)
— by rickiT
I have known many women.
We have parted for many reasons, but only one was the one that got away.
I met Trudy in a beach volleyball game. She was the captain of the other team. Her orders to teammates were direct and concise. Team members reacted quickly. My team didn't have a chance. The game was a blowout, so Trudy invited us all for pizza on her. At the parlor I sat next to Trudy. She asked a lot of questions. We hit it off.
We dated for a couple of months before we moved in together. I moved into Trudy's apartment. 
"Should I bring my furniture?" I asked.
"Everything is as I like it now," she said.
So I sold my stuff and moved in.
When I moved a chair, she put it back.
When I cooked a meal, she kibitzed over my technique.
Trudy contradicted nearly everything I did.
What I had first thought of as friendly critique became an unending string of criticisms.
I knew Trudy was strong willed, but she was just pushy.
I moved out.
Alyson was a salesperson I dealt with when I was a purchasing agent. When negotiating she never checked with the home office. She drove a hard bargain, but was always fair. Sometimes we would meet over dinner to discuss business. I liked Alyson's independence.
Alyson liked gardening. I started to visit her at her greenhouse to help with her planting. It was fun at first. We both had creative ideas about how the plants should be arranged and what kind of plants to cultivate. Our cooperation, however, was not smooth. When Alyson would lift a bag of sand that was too heavy for her I would offer to help.
"No, no, no." she said. "I've got it."
But more often than not she would drop the bag.
"Let me help pick that up," I said.
"No thanks. It is my mess. I will pick it up," she replied.
This independence became so pervasive that she never accepted my help. It seemed like Alyson falsely interpreted my offers as a negative comment on her abilities. This partnership had to end. I stopped visiting her.
In a writing night school class my editing partner was Elina. She was smart. Story structure came naturally to her. When I struggled with the construction of a story, her suggestions smoothed the flow. She helped me find my writing voice. We would meet outside of class and online to edit each other's pieces.
When it came to line editing Elina was ruthless. She believed in cutting the words in a paragraph to their essential sentences. My prose became akin to poetry. My voice was lost in the attrition. 
"I think that prepositional phrase gives depth to the statement," I said.
"You don't need it," she snapped.
"But it gives body to the tone of the scene."
"Let the reader figure it out."
Her critique extended into our relationship. What seemed at first to be a smart, informed point of view became a habit of critical pushiness. We parted ways.
I met a friend's sister at a restaurant dinner. Perdita seemed distracted. She checked her phone often and even texted someone during the dinner. Perdita was stunningly beautiful and as intriguing as she was aloof. During dessert I sat next to her. I looked at her iPhone and said I was an Apple consultant.
"Oh really?" she said with a sparkle in her eye.
"Several years now."
"Do you know why some of the text is blue and some is green?"
I explained about iMessage and showed her some settings on her phone. In the following weeks Perdita would call me up and ask a question. Sometimes we would meet in a local park to talk. She was very nice.
I wanted to get to know Perdita better. She was sweet and pretty. During my consults with her she would often be distracted by her texts or a Facebook comment. When I asked about the distraction she would say, "Oh, it's nothing" and continue to type.
Sometimes she would zone out of our conversation, escaping into her thoughts. Distraction became inattentiveness. While I wanted to pursue a relationship with Perdita, I could not.
Sitting at the Drop Inn bar was Connelly. She was dressed plainly with a flare in her hair style and eyes. I sat next to her, ordered a Tanqueray and tonic.
"Can I buy you a drink?" I asked her.
"Thank you," she said to me.
To the bar tender, "A Wild Woman please."
The bar tender smiled. I think he winked at Connelly.
In the following weeks I drank with Connelly regularly. She was a loyal patron of the Drop Inn. She always ordered the same drink and always sat on the same stool. Conversation turned to her ex. They used to live in his apartment nearby.
"Dylan was a jealous man," she said. "He was always accusing me of unfaithfulness. Whenever I would come home late from work he would question my loyalty claiming that I was meeting someone else."
Connelly was always loyal to me. She was prompt to meet with me. Her affections were generous. She was never distracted by the bar flies that hit on her.
One evening a man entered the bar and walked right up to Connelly.
"Working late Cony?" he yelled. "Who is this?" pointing to me. "A work buddy?"
"I can explain Dylan. Please calm down."
I stood up, gave Connelly a hurt look, opened my palms toward  Dylan and backed out of the bar.
I never returned to the bar again.
A long time friend of mine visited me in California from New York. Sadiqah was a pen pal and a lovely, smart, well dressed, articulate lady. She stayed with me during her visit. We conversed into the wee hours of the morning.
Our conversations reprised our texts and letters.
Her neighborhood was SoHo. She claimed to be a clothing designer in Lower Manhattan. Sadiqah bragged about the glamour of the clothing business. She told me her plans to launch a clothing line.
One evening the conversation turned to investing in her planned business.
"I'm asking a few people to invest $100,000 in "Qah Fashion."
"I am so proud of you," I said. "It is late now. Let's talk tomorrow."
The next morning I went to see my financial advisor. Bill insisted on researching Sadiqah and her startup. Bill employs an in house private detective named Haggerty. Bill took down Sadiqah's full name and address. He told me to come back late that afternoon.
I returned to Bill's office at 4pm. Seated next to him was Haggerty. Bill introduced us and gestured for Haggerty to speak.
"Sadiqah is not who she seems. She lives in a loft above a sewing shop where she works. She is a seamstress, not a designer. Sadiqah has a rap sheet. She has scammed other people for investments that turned out to be false. It looks like you are a potential mark."
I was stunned.
I thanked Bill and Haggerty, left the office and walked home in a daze.
Back at home I could not bring myself to confront Sadiqah. I apologized for not investing in her business and wished her luck. She said that her plans had changed and she would be leaving in the morning.
We did not write again.
My life changed when I met Harmony.
Our interests closely intersected. We pursued the same hobbies. We loved the same things.
I married Harmony at the dawn of a sunny spring day.
Harmony was strong willed, but never pushy. She solicited my cooperation in a project or behavior with examples of her successes and my abilities.
"I need your help in the garden. You have a knack for planter design."
Projects that Harmony started were well thought out. She outlined the tasks from her own research and planned the steps in detail. Before she began she would always ask my opinion and include me in her endeavor. My help was always as valuable as her desires.
Harmony was the muse to my prose. Often the inspiration for a story, she would help to craft the plot and timing. Her line edits were smart. They never seemed to change the voice of my writing. Harmony always pointed out my strengths while offering valuable critique.
When we talked, Harmony held my eyes attentively. She waited until I finished and engaged the essence of my thoughts. When working or playing together she gave it her entire focus.
Harmony was loyal to our marriage, our friendship and our future. I believe that betrayal was nowhere in her nature.
We never lied. We told each other every day how much we were in love.
One dark December night we kissed and went to bed. The next morning Harmony left me. She died quietly in her sleep. My heart broke.
Harmony was the one that got away.