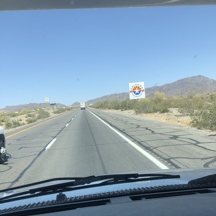 Episode #753
July 8, 2023
The first part of a 6 part series,
2023 skydiving road trip.
The first two days were long, monotonous and weary drives, which were wrapped in fluorescent yellow Palo Verde, cave dwelled cliffs, vast plains strewn with volcanic rock, Tonto's Saguaro forest, pole pine covered mountains and a 14 mile long lake at sunset, all domed in a big sky floating with infinitely diverse clouds. We are continuing our trek to skydive in all 50 states.
When we began this road trip Paula and I had jumped in 35 states in the 35 years we have been skydiving. There are pins in a map in our office wherever we have jumped. Years ago we added jumping in all 50 states to our bucket list. This summer we set out in the motor home to finish jumping the mainland states. After this road trip only Hawaii will remain.
As we pull out of our driveway in our RV I say,
"We're off on an Adventure."
Paula says, "An Adventure of a lifetime."
The first night we stay in the Painted Cliffs welcome center rest stop in Lupton, Arizona. It is red rock terrain near the New Mexico border, pure desert where native Americans thrived.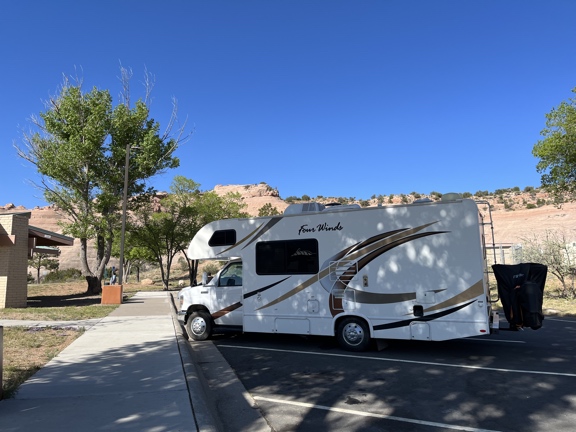 Day two ends in New Mexico. A sign flashes the words Ute Lake, one mile left. What luck to find a huge lake in the middle of the New Mexico desert. The campsite is shaded and inexpensive. A well earned walk along the beach at sunset is our reward for 8 hours of driving.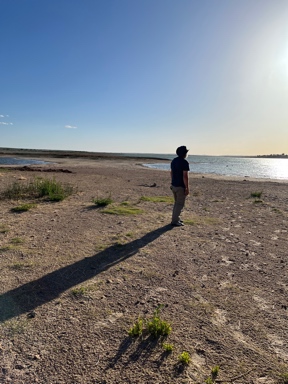 On the third day we arrive at our skydiving tour starting point. We check our 23' class C motorhome into a pretty, wooded RV park with full hook ups. The park is across a vast field and river from the Skydive Kansas State (SKS) drop zone.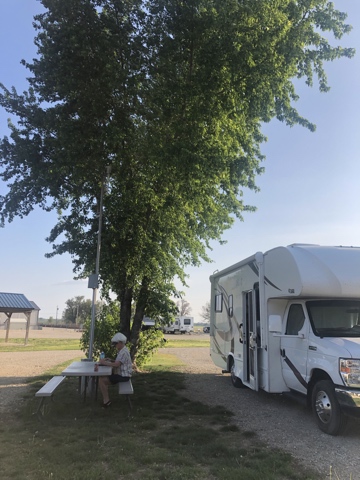 No matter where you go in the world of skydiving you are only a degree or two of separation away from your jumping friends. On this trip we will either know someone at the drop zones or they will know someone we do. The previous day we called our old friend Phil Heinz who lives in Wichita. He offered to drive up to Abilene to jump with us. Phil arrives at the RV park just after we do and takes us out to dinner at the local BBQ restaurant. It is great to catch up.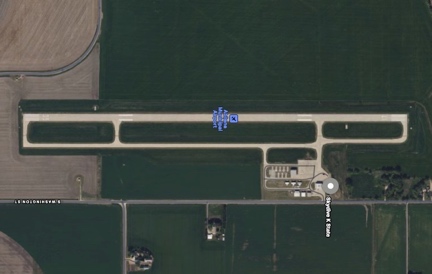 SKS has an immense grass landing area. This is such a treat for us, being used to jumping at the Perris, California dirt field. Large grass landing fields will turn out to be the norm on this trip. We are crammed into a Cessna 182 and fly up to 10,000 feet in a blue sky dotted with small puffy cumulus clouds. Paula and I are Otter and Skyvan jumpers. It takes us much longer to climb out on the step and strut than it does the locals. Of our 5000 jumps, maybe only 15 of them have been out of 182s. Our fellow jumpers are patient with us as we struggle out onto the step. Once in the air it is a wonderful scenic skydive. The terrain is a predictor of what we will see on this trip. Patchworks of farms and forests stretch out as far as the eye can see. The landing in their huge grass field is a pleasure.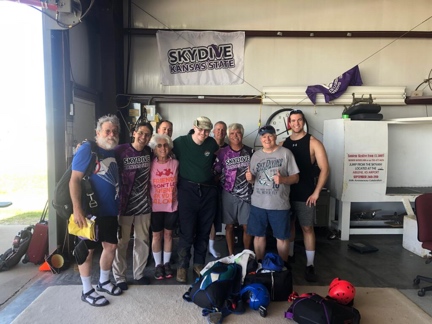 We check off our first state of the trip:
KANSAS!
Weather threatens our plan to jump in Oklahoma next. It seems more likely that we can jump in Nebraska on Sunday, tomorrow. Drop Zones in most of the US are weekend only operations. Also, if they don't have tandem customers they are not inclined to take experienced jumpers up. Nebraska has only one Drop Zone and it is weekend only, so we drive to Lincoln Sport Parachute Club (LSPC) in Weeping Water, Nebraska, this afternoon. 
On the way, we stop at Dorothy's house from the Wizard of Oz. Yes, that house, right out of the movie. It is a little hokey, but the people in the gift shop are nice and some of the sculptures were creatively made.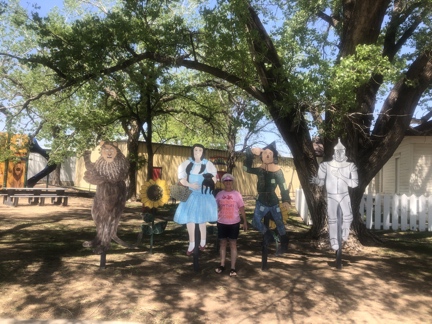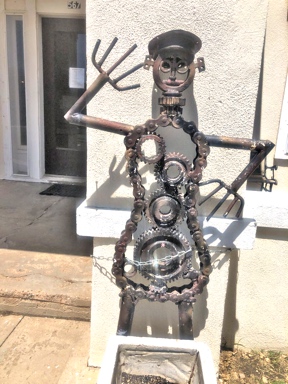 When we arrive at LSPC they have a RV spot for us right on the airport.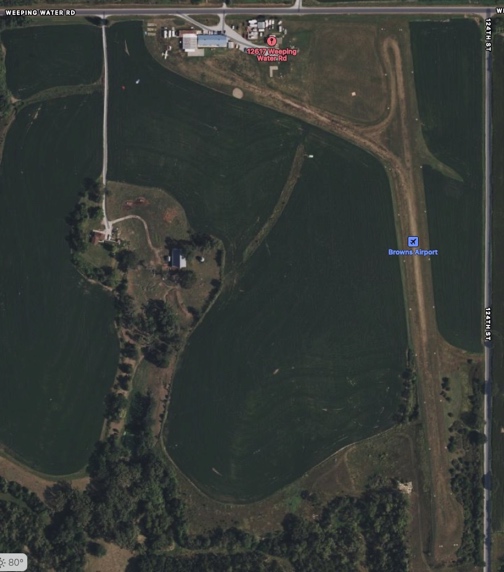 The morning brings a clear day with plenty of gaps in the ever present cumulous clouds. LSPC has a long grass runway and huge grass landing area.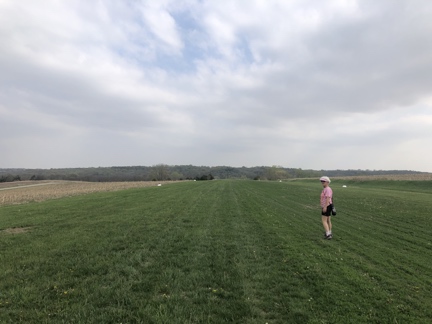 They also have a Cessna 182.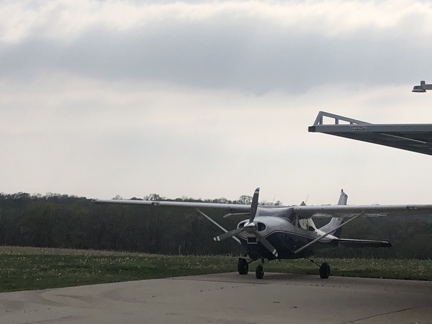 We plan our skydive with a couple of local jumpers. As I have said, Paula and I have no idea how to exit a 182. We learn a 4-way exit where one jumper sits in the crotch of the airplane strut with two people on the step and one crouched in the door. What skydivers will do to exit a linked 4-way! The climb to altitude with four jumpers in a 182 takes 40 minutes. By the time we get to altitude my legs are stiff and it takes me even longer than expected to swing out onto the step. I struggle out to my position on the step and we all exit the linked formation. In freefall the horizon stretches to infinity, a flat, unending carpet of green. Because there is only one airplane landing on this airport we can land our parachutes on either the grass runway or the large grass field, whichever we like. We fly through the now clear blue sky and land softly on the grass.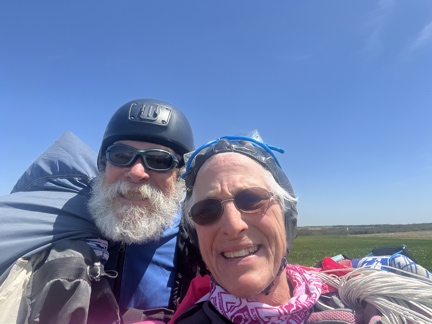 NEBRASKA!
We have only planned on one jump in each drop zone, but when we return to the hangar our friend Dan Myers arrives at the Drop Zone. We have jumped with Dan on big way events for years, but had no idea he lived and jumped in Nebraska. We plan and make another jump with Dan.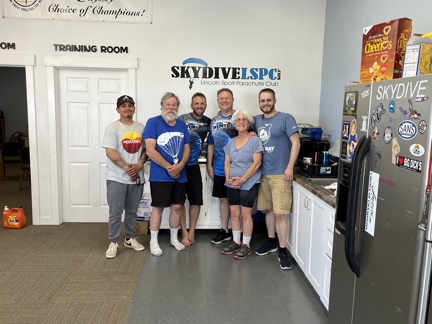 After this jump the clouds are coming in.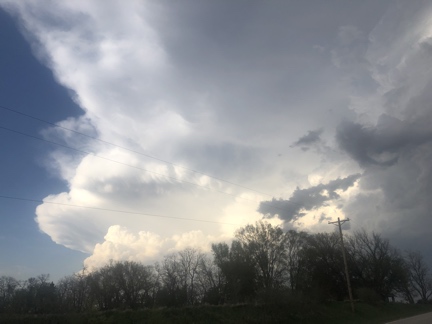 We spend some time hanging out with the skydivers in the clubhouse, then retreat to our RV. Overnight, golf ball sized hail blows by us to our north and torrential rain pounds the RV.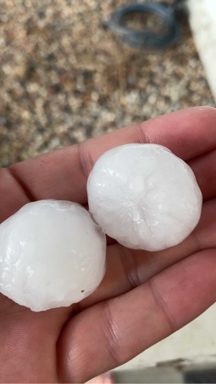 The plan for today, Monday, is to visit the Omaha Zoo, so we drive to Omaha. The Omaha Zoo is world class, on the same level as the San Diego Zoo in California. The habitats are large and naturally landscaped. Very few guests are there on a week day so we have the whole zoo to ourselves. Oh yea, there are lions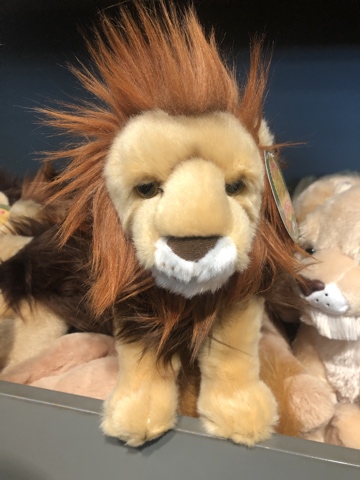 and tigers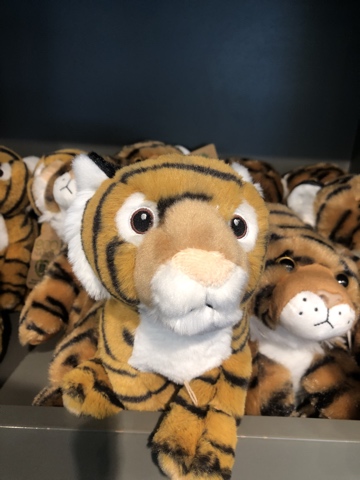 and bears,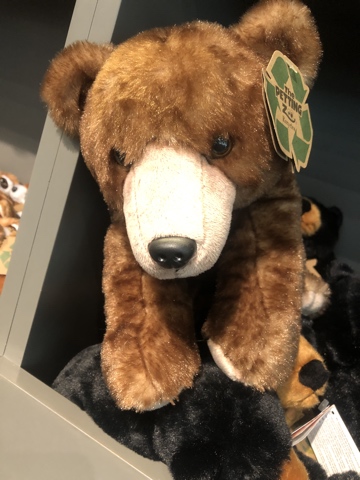 Oh-maha.
TO BE CONTINUED next week…
PLEASE BUY MY BOOKS:
"Skydivers Know Why Birds Sing" by Ricki T Thues is now available on Amazon.
It is a Love story of Rick and Paula Thues and their 35 years of Skydiving.
Click HERE to buy the paperback or Kindle ebook at Amazon.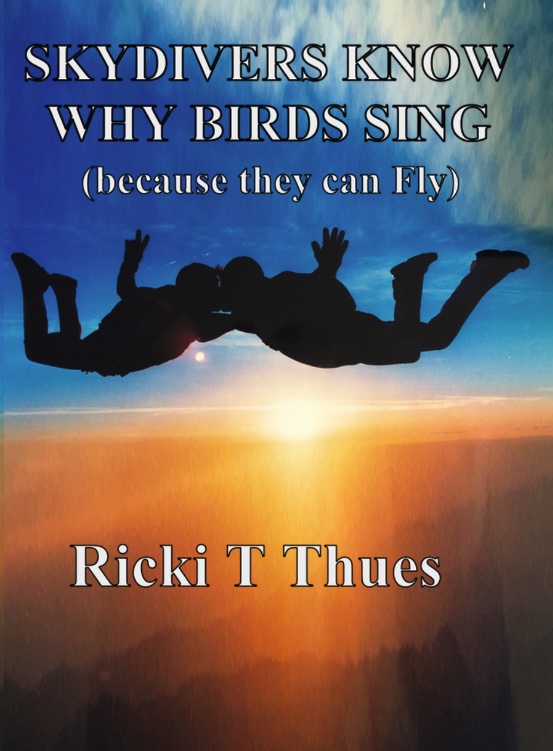 Follow Ricki T Thues on Amazon HERE.
ALSO AVAILABLE:
"Technically Human" by Ricki T Thues, the iMentor, is available on Amazon.
It is a compilation of selected episodes from this bLog which tell the story of Humanity through the eyes of the iMentor.
Click HERE to buy the paperback or Kindle ebook at Amazon.
The ebook version of "Technically Human" is also available on Kobo. Click HERE.
For you Barnes and Noble Nook readers it is available for Nook. Click HERE.
The "Technically Human" ebook is also available on Apple Books . Click HERE.