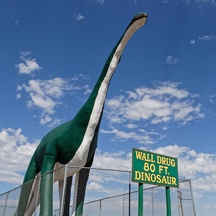 Episode #758
August 12, 2023
The sixth part of a 6 part series,
2023 skydiving road trip.
Last week's episode (part 5) of this travelogue left us parked for the night behind Skydive Northstar, Minnesota after a Tuesday skydive.
It is the next morning (Wednesday). We have only South Dakota left to jump on this trip. I have tried to get in touch with the Hot Springs, SD drop zone for weeks, with no luck. We worry that we will be unable to complete our quest.
My iPhone rings, waking me from my rememberings. Skydive Hot Springs is on the phone. They will have tandems on Friday and can put us up with one of them. We are skeptical because years ago we drove from California to Hot Springs only to find that their airplane had broken a spinner and was down. I write about this in the story, "Road Trip to Nowhere," in my book, "Skydivers Know Why Birds Sing."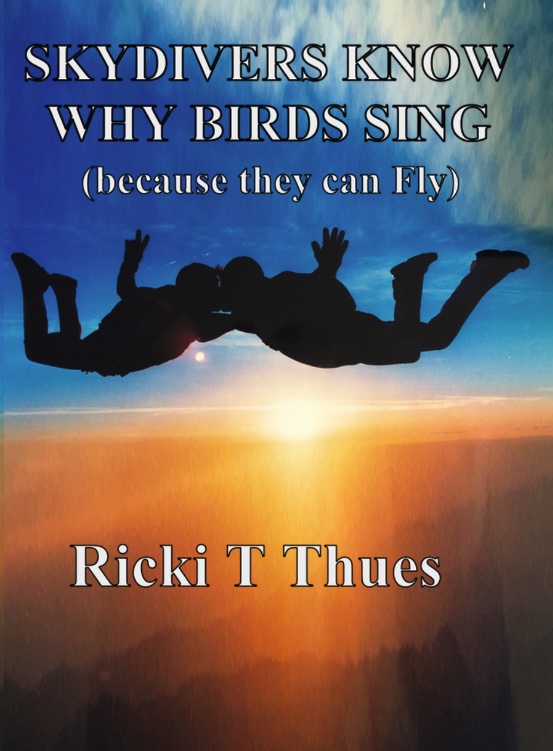 Since it is a ten hour drive to Hot Springs I call Skydive Adventures (only 3 hours away in Minnesota) to see if they have repaired the tachometer in their airplane. If it is repaired they have said they can jump us into a South Dakota rest stop. The manager says that the mechanic received the wrong part and they will not be jumping this Friday. We are a little relieved since we will not be jumping into the iffy I-90 rest stop.
We leave for Hot Springs, South Dakota. Three hours into the drive we arrive in Sioux Falls on the Big Sioux River. The waterfall volume is low but the falls are still impressive.
It is lunch time so we eat at the Falls Overlook Cafe in the state park. It is a restored hydroelectric plant.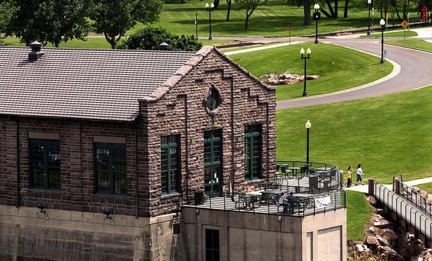 Our experiences on the trip with institution cafes has not been good, but I have a gourmet hamburger that couldn't be beat.
At about our half way point to Hot Springs is the Missouri River. I find an RV park in Chamberlain, South Dakota.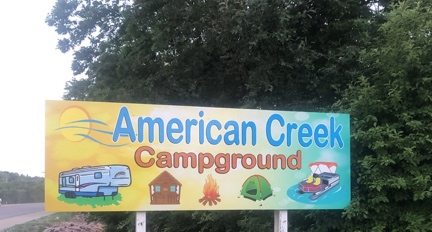 American Creek Campground is located right on the shore of a stretch of the Missouri River known as Lake Francis Case.
The lake is the result of numerous army corps of engineers flood control dams. It is a mile across at our location. We enjoy a long walk along the river and stop in town to buy ice cream cones.
In the morning I call ahead to the Hot Springs Airport manager. Overnight parking is not allowed at Hot Springs Municipal Airport so I find an RV park nearby. The owner of the Sunrise Ridge Campground is a lovely woman who is happy to book our RV campsite. We begin our four hour drive to Hot Springs.
We have been seeing Wall Drug billboards on I-90 ever since Luverne, Minnesota. The billboards are coming much closer together now. Some even advertise dinosaurs.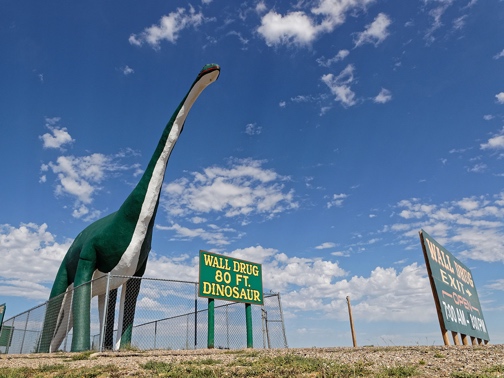 Paula and I have been to Wall Drug on a previous trip to the Black Hills, but the power of suggestion prompts us to do one last souvenir shop.

We find no souvenirs, but do find an eyeglasses repair kit which allows me to remove the nerd tape from my glasses. BTW, yes, there are dinosaurs at Wall Drug. No, you don't have to stop there.
We arrive in Hot Springs, South Dakota at Sunrise Ridge.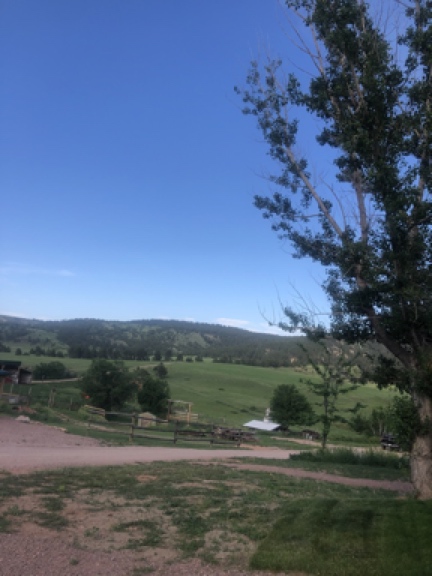 We walk the campground, take showers and are lulled to sleep with the lowing of cows.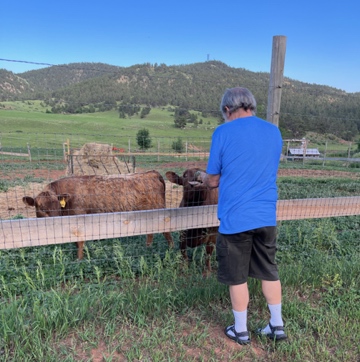 The next morning we rise early and drive to the Hot Springs airport.
The hangar is open. Nick and Colin, the owners of the DZ are there. The tandems are filling out waivers. The sky is clear. We are going to jump!
We are paired with the first of three tandems. Nick is the tandem master and Colin is the pilot. Loaded down as we are Colin can only get us to 9,500 feet. This is fine for us. We are jumping in South Dakota! We learn later that, minus Paula and I, Colin was able to fly to 11,000 feet for the tandem ride.
When the door opens, Paula and I bomb out. We take each other's hand and slowly turn 360s in freefall. There are the Black Hills. Out there are the Badlands of South Dakota. To the south is Angostura Reservoir. Farms are a patchwork across most of the terrain. We kiss.
The spot is perfect. We land right next to the hangar.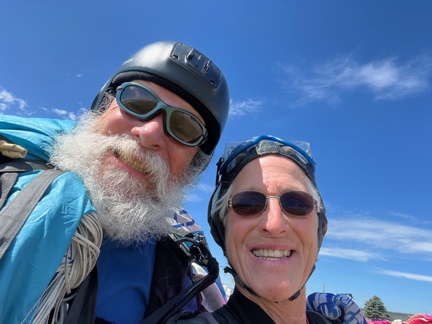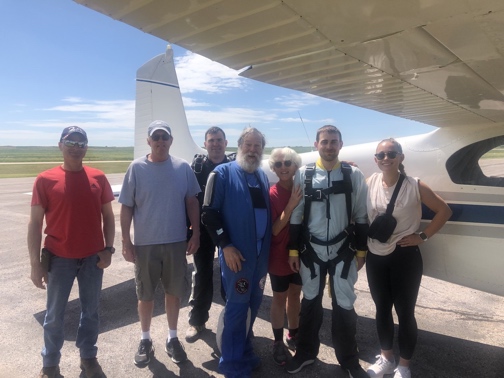 SOUTH DAKOTA!
We have jumped in all of the fourteen states planned for this trip plus Wisconsin!
In our quest to jump in all 50 US states, now only Hawaii remains.
On our way back to the campsite from the airport I find and navigate to a small country restaurant named Southern Hills Diner & Bakery. It is a rustic building with solid handmade wooden benches for tables.
Aside from farmhouses there are no other buildings in sight. We enter the restaurant through a sticking door with a bell announcing our entry. The owner is homeschooling her son and daughter in a side room. Her husband is cooking in the kitchen. We order our meal from a chalkboard listing the menu for today. I order a roast pork sandwich and Paula orders breakfast. We sit at a bench next to a wall of jarred pickles. Paula's toast is served with choke cherry jam. It is delicious. My sandwich is served with a sweet pickled zucchini relish that is as good as any chutney I have tasted. When the meal is done I ask the lady of the restaurant, "Do you grow your own cucumbers for all these pickles?"
"We grow and raise everything we serve here, on this farm," she replies with pride.
I buy a jar of choke cherry jam and one of the zucchini relish. Paula also buys a loaf of homemade bread.
On our way to the campsite from the restaurant we see a sign for the Mammoth dig site.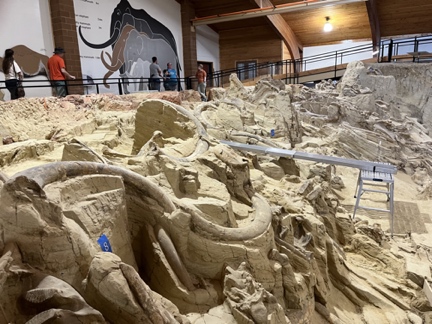 The Mammoth site was formed when a Pleistocene terrace sinkhole was created from the collapse of a limestone cavern. The steep sides of the sinkhole allowed mammoths to fall in, but they could not climb out. Over eons sediments filled the hole covering the mammoth bones. It is an active paleontological excavation site. The scientists are still digging and curating the dig for visitors. It is not long before we realize that we had visited the site the last time we were in the Black Hills. We view the entire museum anyway. It is interesting even the second time.
When we leave the mammoth museum it starts to rain. By the time we get back to the campsite it is hailing and the rain is blowing sideways.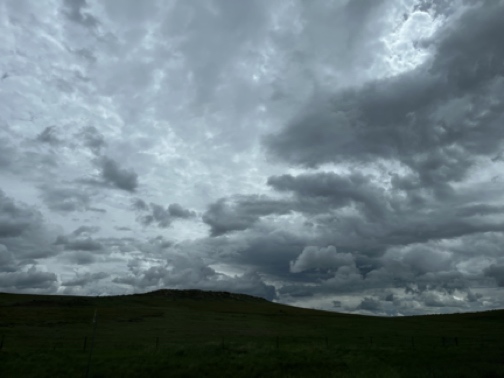 Once again the Sky Gods assert themselves, but again our timing is better than theirs.
The next morning we start our trip home with a visit to Wind Cave National Park in the Black Hills of South Dakota. On the way into the park there are herds of buffalo.
It begins to rain as we pull into the cave parking lot. When we enter the lobby we know that we have been here on our previous trip. There is a two hour wait to go on an hour cave tour that we have already done. I look out the window at the torrential rain and think, worse case scenario is an earthquake that cracks open the earth and fills the cave with water. Paula thinks, best case scenario is a 3 hour wait to see a cave we have already seen. We get back on the road.
On the way out of the park a buffalo stops traffic right in front of the RV. We enjoy his leisurely saunter across the road.
Three hours of monotonous Wyoming driving on US Highway 18 and I-25 brings us to Casper, Wyoming. We find the local Walmart and settle in a remote section of the parking lot. Paula notices a sign right outside our RV door which reads, "No overnight parking. Violators will be towed." Ok. I set the GPS to home and we ease on down the road. Our route takes us down Wyoming Highway 220 toward I-80. This is essentially the Mormon Trail, also known as the Oregon Trail.
An hour later there is a rest stop. It is quiet with very few trucks. It is also the site of Independence Rock. This is the midpoint between the Missouri River and the Oregon coast. The granite rock is 130 feet tall x 1900 feet long x 850 feet wide.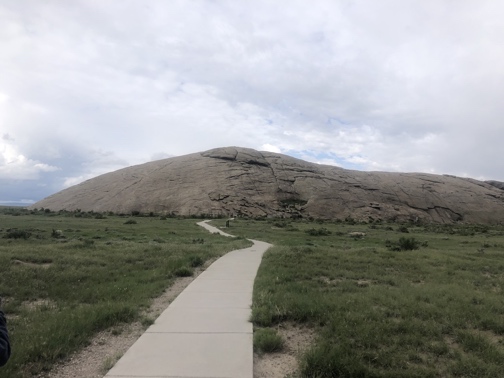 The settlers in the wagon trains gathered here to spend the night and cook a camp meal and so do we. Paula and I walk around the rock one way until the Sweetwater River flooding stops us. We walk around the other way until we reach the river again.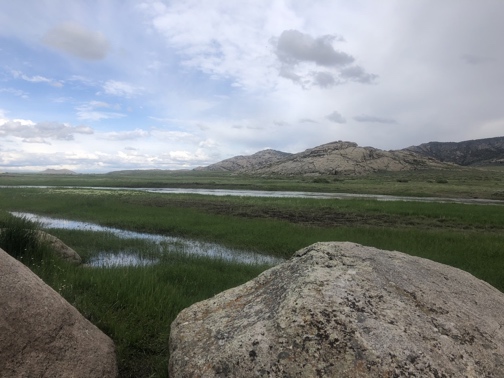 On our way back to the motorhome it starts to rain. Once inside the RV we are entertained by a thunderous lightning show with torrential rain.

A cow comes up to the window of the motorhome and asks if she can come in out of the rain.
"Mooove OOOOver for MEEEE," she says.
When we wake the next morning I check the map. We are about six hours from Salt Lake City. Aside from the occasional table buttes which rise powerfully out of the desert it is a monotonous drive.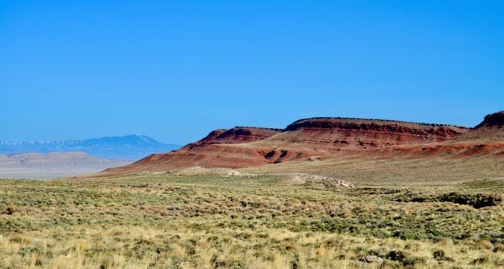 Thankfully we have audio books to distract us. Just shy of Salt Lake we find the Echo Canyon mountain pass rest stop. We park as far away from the semi trucks as we can. The bathrooms are closed for construction and the information center is being remodeled, but there is an interesting foot trail that we take. We pass the information center on our way to the trail head and see other travelers hand feeding hundreds of prairie dogs. One man is literally covered in the rodents. Paula and I cannot believe this scene. Visions of social biting and rabies flash through our minds.
Along the path is a city of prairie dog burrows complete with sentry dogs standing at alert attention.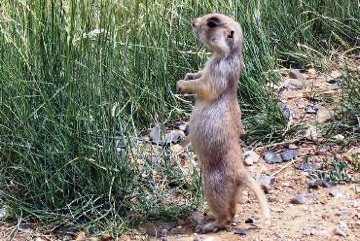 Farther along our walk is a view of the red rock canyon walls.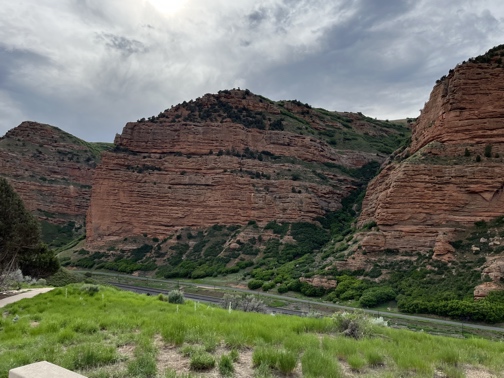 In the morning we set off through central Utah for an RV park in Saint George. No stops except for gas. Just six hours of driving. Paula makes sandwiches on the way. It starts to rain about midway through the Utah leg. The driver's side $25 windshield wiper flies off the wiper arm. I can't believe it. "I shouldn't have bought the cheapest wipers!" I exclaim. Paula says, "Pull over. The wiper is still on the hood… right there." I pull over and reattach the blade. The friction clip on the blade is cheap and has broken off. I duct tape it on. Good enough.
We have stayed at Saint George RV Park and Campground previously when visiting Zion National Park.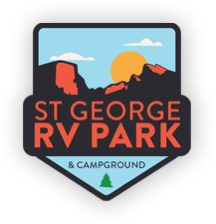 There is not much to say about the campground except there are clean showers and full hookups that let us catch our breath.
We are on a roll now. After a sit down breakfast we jet to Las Vegas. It takes us two hours to get to the city and one hour to drive through it on I-15 because of traffic. Once through Las Vegas another two hours takes us to Barstow. We make a right turn on Highway 58 and drive to Bear Valley Springs, above Tehachapi. We cannot drive pass Paula's sister, Tina, and her husband, Walt's house without visiting.
It is so nice to see them.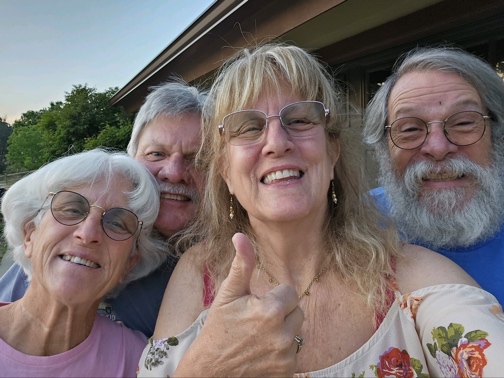 We take a leisurely walk with Tina where we see a half dozen elk swimming in the lake.
Our visit is timely. We all pitch in to help them move a new jacuzzi from a trailer in front of the house to the back yard.
Walt brilliantly engineers slide ramps and dollies and the rest of us help prevent a crushing death.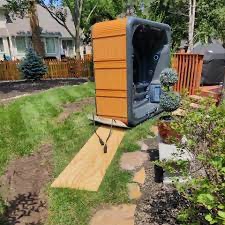 We spend three days with Tina and Walt and our visit is over too soon. However, we dearly want to see our cats so we get the RV down the road for home.
3.5 hours later we pull into our driveway, rush into the house and hug our cats.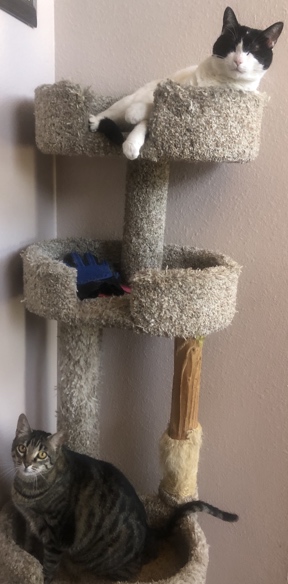 Paula says, "That was an adventure."
I say, "An adventure of a lifetime."
The tripometer on the RV reads 8,500 miles. We have been on the road for six weeks.
We have only one more state to jump in our quest to jump in all fifty… Hawaii.
But for now, it is good to be home.
PLEASE BUY MY BOOKS:
"Skydivers Know Why Birds Sing" by Ricki T Thues is now available on Amazon.
It is a Love story of Rick and Paula Thues and their 35 years of Skydiving.
Click HERE to buy the paperback or Kindle ebook at Amazon.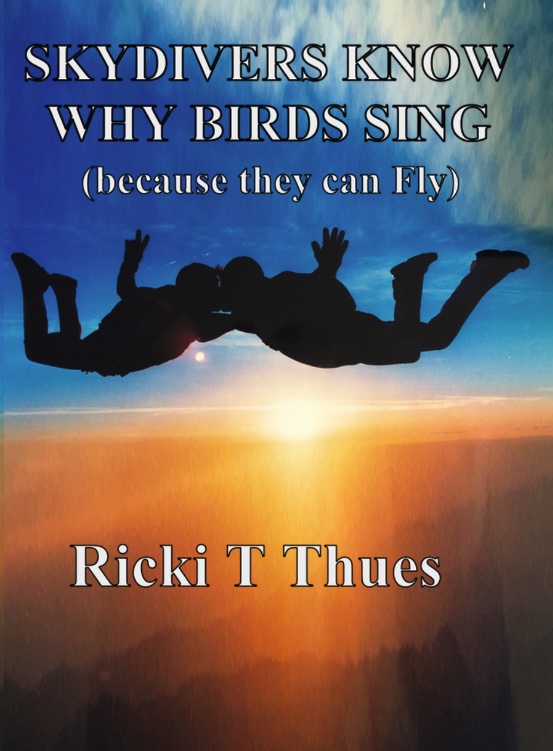 Follow Ricki T Thues on Amazon HERE.
ALSO AVAILABLE:
"Technically Human" by Ricki T Thues, the iMentor, is available on Amazon.
It is a compilation of selected episodes from this bLog which tell the story of Humanity through the eyes of the iMentor.
Click HERE to buy the paperback or Kindle ebook at Amazon.
The ebook version of "Technically Human" is also available on Kobo. Click HERE.
For you Barnes and Noble Nook readers it is available for Nook. Click HERE.
The "Technically Human" ebook is also available on Apple Books . Click HERE.