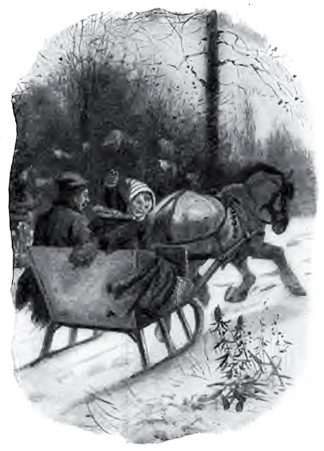 Episode 565
November 30, 2019
How did you get to Grandma's house this Thanksgiving?
"Over the river and through the woods?"
Did  the "horse know the [Waze] to carry the sleigh, through (the) white and drifted snow?"
Was "the pudding done? Hurrah for the pumpkin pie!"
i have so many options for finding my way to Grandma's house. My plan was to pick up the pumpkin pie on the way, avoid the traffic and the weather and arrive on time to "Grandmother's cap i spy!"
My first inclination is to ask Siri on my iPhone how to get to grandma's house. In My contact card my grandmother relationship field is entered as "Ruby Combs."
"Hey Siri, give me directions to grandma's house." Siri will find the fastest route to Ruby Combs' house and start turn by turn navigation.
If i want more route options, i start with the Maps app. Maps does not know who my grandmother is so i have to ask for directions by her name. i tap the "Directions" button and three routes are displayed.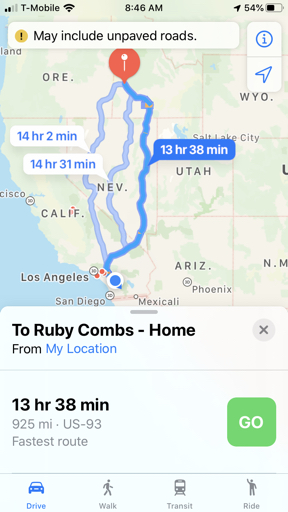 A strong weather pattern is sweeping across the country this Thanksgiving so i want to travel the most temperate route. Since i am driving from Southern California to Idaho the weather might be quite different on each route. The western route takes me though Oregon. The eastern route takes me near Utah. The center route bisects Nevada. Before i decide which route, i check the weather in each area.
A Google search for weather in Winnemucca, CA, (western), Elko, NV, (center) and Wendover, UT (eastern) show that the western route is raining and the eastern route is snowing. i decide to take the center route even though it is an hour longer than the eastern route.
On the way, if i want to make a pit stop, i can swipe up and pick Gas Stations or Restaurants to divert.
i wanted to pick up pies on the way, but Apple Maps does not allow for multiple destination programing along my route. i must first ask for directions to Marie Calendar, then, after i buy the pies, ask for directions to Grandma's house. There are other map apps that will let me program multiple stops.
Waze is a map and directions app available on iOS and Android. It is crowd sourced for road conditions, traffic and routing. Road closures, flooding and optimal parking are added to the Waze Live Map in real time by thousands of Waze users.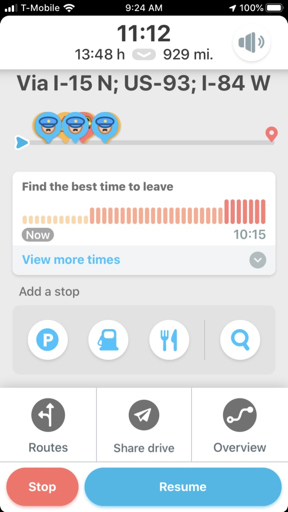 Waze takes these reports into consideration when creating the most optimal route. Waze can gain access to my personal address book for destinations and ETA notifications. Also, if you store locations for your Facebook friends it can access those. Since weather is taken into consideration, i do not have to check the weather forecast when selecting my suggested route. Waze allows the addition of one stop so i can add Marie Calendar's to my trip to grandma's house.
If you need more than one waypoint in your navigation, the Google Maps app can do that. You can add multiple stops to your route and even rearrange them by dragging their order in the list.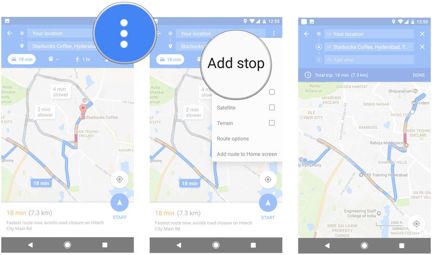 Apple Maps, Waze and Google Maps all allow you to send your location and ETA. 
In Apple Maps, while navigating, touch the gray line at the bottom of the screen, then the "Share ETA" button. Select from the five most recent contacts or touch "Contacts" to look up a contact in your address book.
Maps sends periodic updates to the contact's text messages.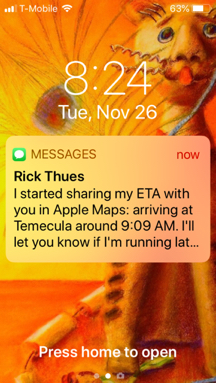 In Waze, send your ETA during a route by tapping the Waze icon in the app then touch the "Send ETA" button. Enter or select a recipient and touch the send button.
Once you have your directions in the Google Maps app touch "More", then "Share trip progress" to share your ETA.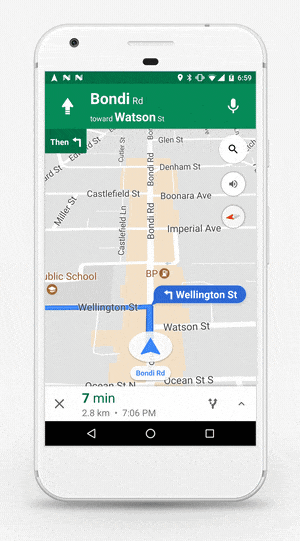 Grandma will know when to take the pudding out of the oven when she is notified of my arrival time.
"Over the river and through the woods,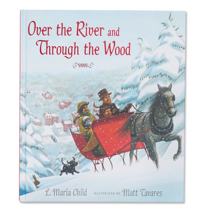 Trot fast, my dapple gray!
Spring over the ground,
Like a hunting hound!
For this is Thanksgiving Day."