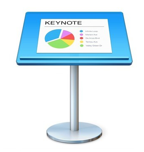 Episode 569
December 28, 2019
The first presentation program available on a consumer computer was Powerpoint. At first it was used to produce 35mm slides but soon became the go-to app for projector slide presentations. It was released in 1987 by Forethought, Inc. for Macintosh only.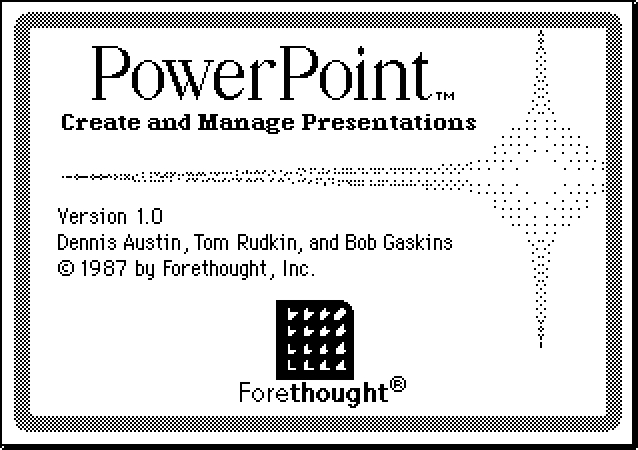 Microsoft bought Powerpoint three months later for 14 million dollars. Powerpoint was part of the suite of programs called "Microsoft Office" for the Mac, released in 1989. Powerpoint became a standard for electronic slide show presentations when included in Office for Windows in 1990.
A presentation application replaced overhead transparencies. At first it was used to produce black and white transparencies, but in 1993 Powerpoint was upgraded to output digital video. Digital projectors and large screen monitors were expensive in 1993. Ten years later, with affordable projectors, business presentations were almost exclusively delivered with Powerpoint on projectors.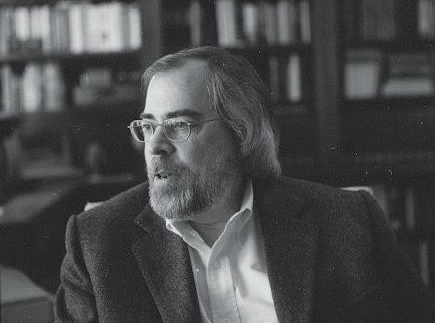 A presentation app is part of any office suite you might use today. Microsoft Office 365 includes Powerpoint. Apple's iWork includes Keynote. NeoOffice includes NeoImpress.
Powerpoint's dominance for decades made it the standard for presentations.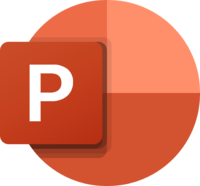 Powerpoint formatted documents can be read by every other presentation application. Businesses use Powerpoint routinely for compatibility inside and outside their companies.
The cost of Powerpoint (as part of the Office 365 subscription) is between $69.99 per year for the Personal version and $150 per year for Business Premium. This high price has made alternative presentation programs attractive to individual consumers.
Apple's Keynote is free on all Apple devices as are the other iWork apps, Numbers and Pages. Keynote includes the advanced and intuitive editing features known to the Mac. Drag and Drop and WYSIWYG is in the DNA of Keynote. Keynote can read Powerpoint documents (.pptx and .ppt formats). It can also open all previous versions of Keynote documents (.key).
All other presentation programs cannot read native Keynote formatted documents. If you want to share your Keynote files with other presentation applications you must acquire the skill of exporting. In Keynote, Choose File > Export To.  Here you can save your document as Powerpoint, PDF, Movie, Animated GIF, Images, HTML and older Keynote formats.
NeoOffice is a stand alone application for the Macintosh only. It was derived from the open source Unix office suite called OpenOffice. NeoOffice is available for $29.99 in the Mac App Store. NeoImpress, the NeoOffice presentation component, can read and write Powerpoint documents.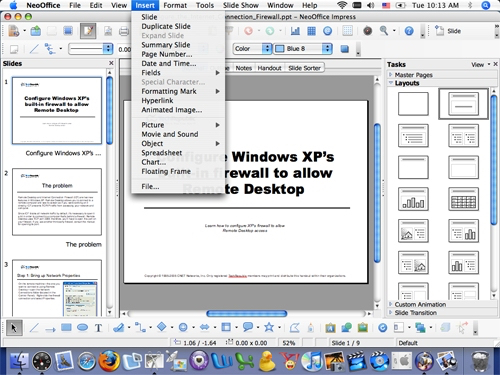 It also supports OpenDocument Presentation, StarImpress and Unified Office Format presentation formats.
Another offshoot of OpenOffice is LibreOffice. LibreOffice is available for both Mac and Windows operating systems and is free. Impress, the presentation component of LibreOffice, reads and writes most of the documents supported by NeoImpress.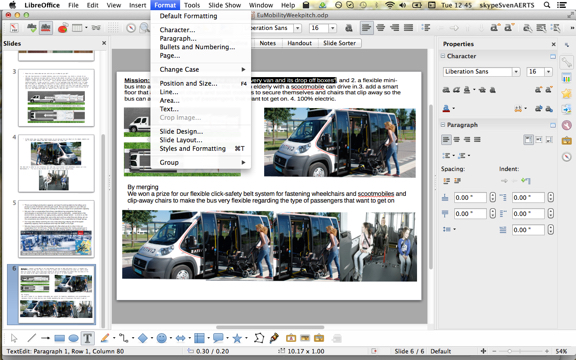 In business the Powerpoint presentation is still a standard at meetings. Many presenters make the mistake of reading the bullet points directly off the slides. Others distribute printed copies of their slide show. This practice distracts from the presentation.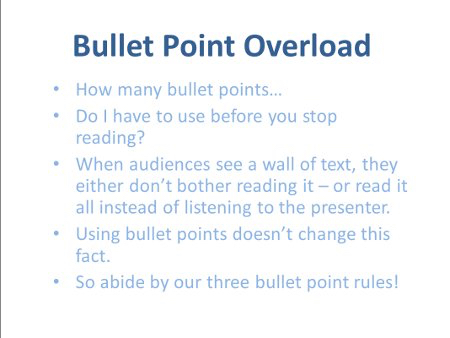 Slide presentations should be captivating and punctuate the topic being presented. Slides can contain graphics, animation, sound and video. All these can be used to enhance your point rather than tell your point.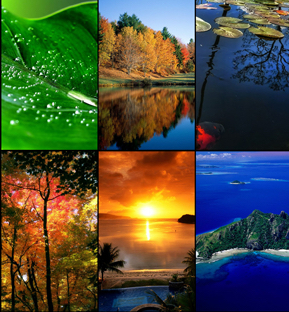 My Powerpoint presentations are always engaging. In a speech about global warming i ran a slideshow of images only on the big screen behind me which were timed to what i was saying. One of my favorite uses of Powerpoint was during a Toastmasters speech. In the middle of the speech i dialed a number on my phone and behind me on the big screen appeared my twin brother Tom. i turned toward the screen to face Tom. i had a conversation with him about doing a Toastmasters presentation with him, asking what topics we might present. Tom is me. I taped myself with a baseball cap and without my glasses ahead of time. I only taped Tom's side of the conversation. This i imbedded in my slide show. i filled in my side of the conversation live at the presentation.
One of today's modern conveniences is the ability to collaborate with a document online.
Apple Keynote requires the owner of the document to have an iCloud account, but the owner can invite anyone to collaborate. Also, Keynote presentations can be run to a projector directly from iCloud, allowing any computer with a browser to be used.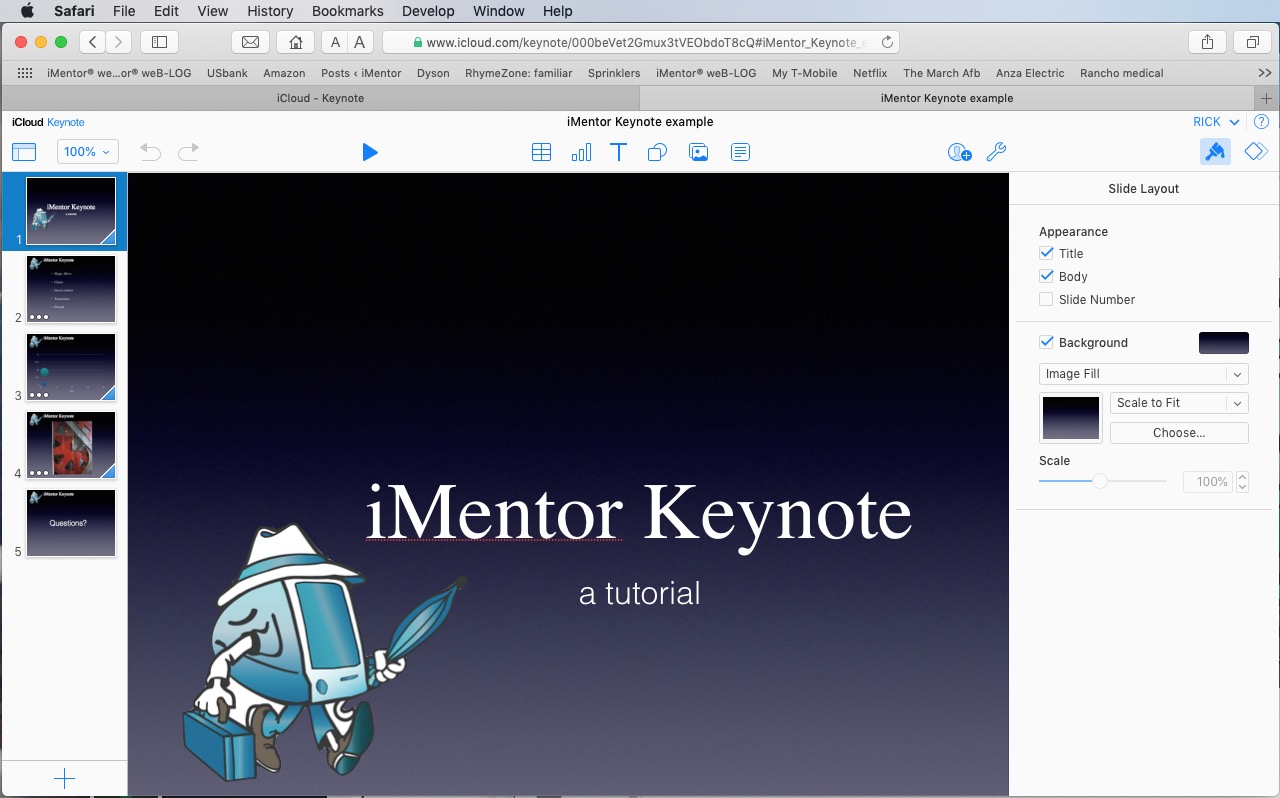 Likewise, to co-edit a document in Powerpoint, the owner must save it to MS OneDrive, then invite someone else to share it. An email is sent to the collaborator which they can follow to edit the presentation with their Internet browser.
NeoOffice does not allow for online collaboration, but LibreOffice does. Unfortunately, LibreOffice collaboration is not available to the average user and must be accomplished through 3rd party subscription services.
One more player in the Office Suite game is Google. Google G Suite is strictly online. It consists of Docs (word processing), Sheets (spreadsheets), Slides (presentation) and Forms (templates). Online collaboration is at the heart of G Suite. As with iCloud and Microsoft collaboration the owner of a Sheets document must have a Google account.
When the owner wants collaborators he sets permission for "anyone with a link" and invites the collaborator via email. When the email link is clicked the invitee is able to view and edit the document without the need to sign into Google.
Presentation software can add depth and emphasis to your business presentation. Exported as a movie file it is an easy way to share your vacation, create a holiday movie or make a tribute to your grandma's 80th birthday.