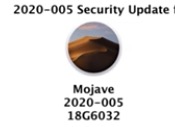 Episode 609
October 3, 2020
Apple seldom makes mistakes,
but they are not without their errors.
Some of us old timers remember Mac OS 7 which erased my hard drive.
The errors in OS 7 were mostly due to Apple's transition from Motorola processors to PowerPC processors. The eminent transition from Intel processors to Apple's own arm A14 processors will have growing pains as Apple prepares its operating systems and applications to run natively.
Last week Apple made another big error.
This error only affected computers with macOS Mojave 10.14 installed.
If you have macOS Catalina installed you are OK.
After installation of the "Security Update 2020-005" Mojave computers started to run very slowly.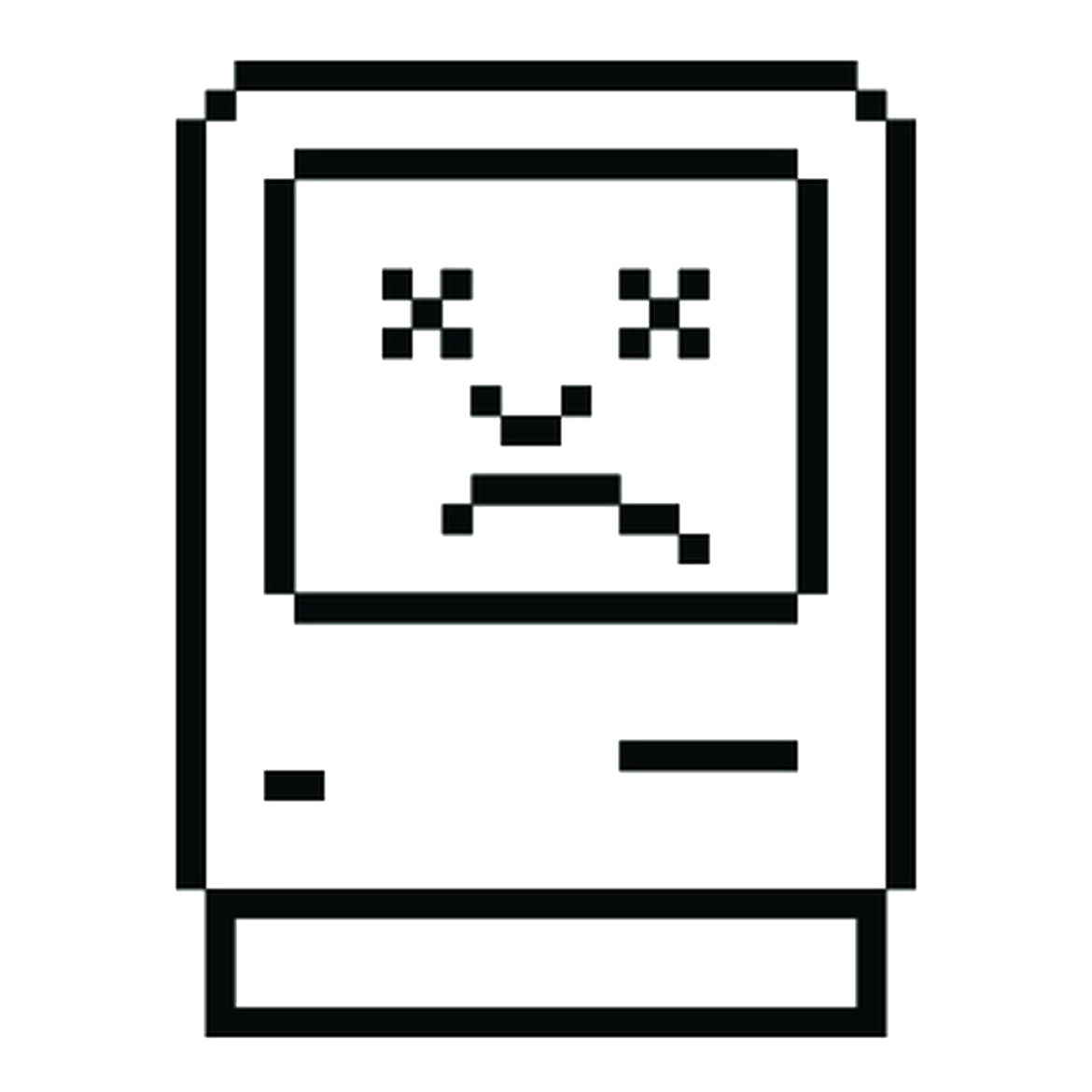 Applications opened slowly, sometimes taking minutes to launch. Documents needed "verification." Some system programs would not work at all. System preference panes would not open. Extensions were blocked. Printing would not complete. i even considered running the Mojave combo updater, but the dmg file would not mount and/or the installer would not run.
Users were left with unusable computers.
Thanks to Mr. Macintosh (mrmacintosh.com) solutions to this problem exist.
Since the following information comes mostly from Mr. Macintosh, i am embedding a video from him here:
Some good news is that the order of Update matters. The Safari 14 was available at the same time as Security Update 2020-005.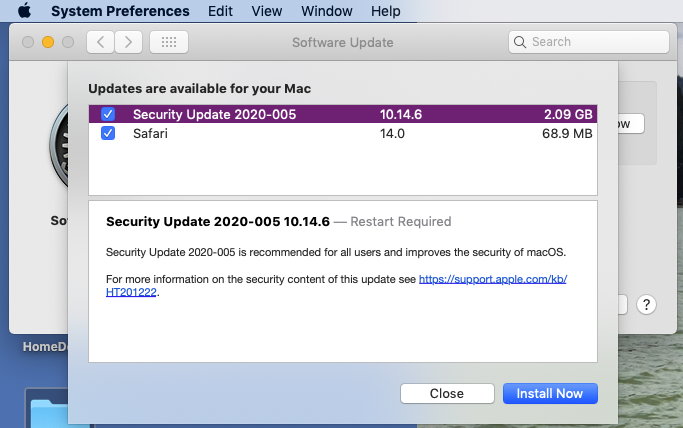 If Safari is installed first and then the Security Update, you will have the problem. If the Security update is installed first, then Safari… no problem.
My recommendation is to not install either update until Apple pulls these and issues new updates. The link to the Mojave Security Update 2020-005 installer on Apple's support page no longer works so it looks like Apple is aware of the problem.
It is reported that Apple has pulled the Security and Safari updates as of October 1, 2020 and will issue a fix for the problems they have caused. Meanwhile the recoveries listed below have been very successful.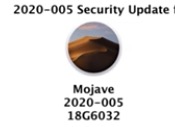 Another thing to do is to turn off auto update on your Mac.
In System Preferences > Software Update > click the Advanced button next to "Automatically keep my Mac up to date."  Uncheck "Install macOS updates," "Install app updates from the App Store" and "Install system data files and security updates." You will still see the available updates and received notifications of them, but you can make your own decision about whether to install updates in the future.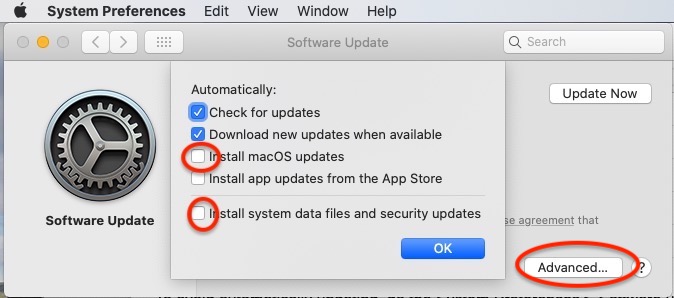 Now for the solutions.
BE SURE YOU HAVE A CURRENT TIME MACHINE BACKUP before trying any of this.
If you are at all unsure of what you are doing, seek help.
RESTORE FROM AUTOMATIC UPDATE SNAPSHOTS. (This will only be available for 24 hours after you do the Security update).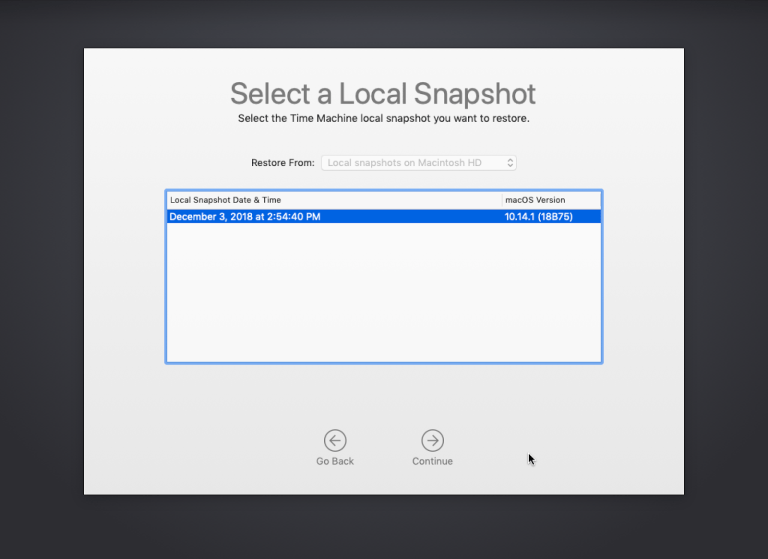 Start your computer in Recovery mode (Command-R held down at startup).

Select "Restore from Time Machine Backup."

Select your boot drive (Macintosh HD.)

Select a Local Snapshot and Continue.

Your Mac will be returned to the way it was just prior to the Security Update.

This option disappears after 24 hours.

BTW… any data changes you have made to the computer since the Snapshot will be lost.
UPGRADE TO CATALINA.
Only upgrade to Catalina if your computer is able and you are willing to spend the time and money to upgrade all your apps to 64 bit.
REINSTALL MOJAVE FROM THE MAC APP STORE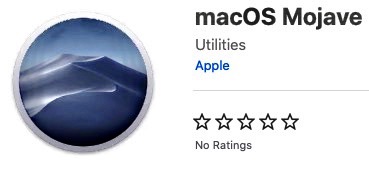 Find the link to Mojave installer in the Mac App Store, click on the "Get" button and follow all the prompts.
This will keep all your current data and third party applications, but return you to a system point prior to the Security update. Now just wait for Apple to fix the update problem.
i have used the REINSTALL MOJAVE FROM THE MAC APP STORE method on several computers and it has worked every time. Be prepared to wait for a slow App Store, System Preferences Software Update, download and install. The very problem caused by the Security Update makes the solution slow. The process has taken anywhere from 1 hour to 3 hours. In one case the 6.1 GB download stalled at 6.04 GB for an hour before the Mohave installer appeared.
PATIENCE.
Again, thank you Mr. Macintosh for the timely advice.
i recommend you subscribe to Mr. Macintosh or bookmark his website and visit it often.
If you hold off on updates and upgrades for a few weeks, sites like Mr. Macintosh can wave you off and avoid disasters.
Most of the victims of this Apple error were early adaptors or simply had Automatic Updating enabled on their computer.
Computers make mistakes. They can repeat calculations accurately and indefinitely but they are not infallible. They are fallible because they are programmed by fallible humans. As in all things, users are advised to take the use of their computers into their own hands.
In 30 years of Apple consulting


the best advice i have ever given is
NEVER TRUST A COMPUTER.