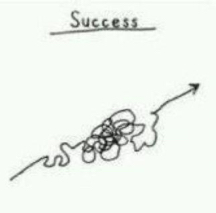 Episode #702
July 16, 2022
There is a loop which visits and revisits mistake.
It is how we learn.
Learn
Mistake
Action
Decision
Analysis
Data collection
Observation
Query
Imagination
Wonder
Mistake
Learn
Our mistakes are how we learn.
Mistakes are actions gone wrong.
When action goes wrong we learn…
Don't make that mistake again.
Actions are implements of decision.
Decisions are born of thought.
Data analyzed from observed data collected
generates decisions.
Observation answers our queries.
Queries spring from imagination.
The background brain buzz is imagination.
It is the sound of thought.
Imagination is fed by wonder.
We wonder about our mistakes.
"Why?" is the query that loops the loop
of making mistakes to learn.
We learn when imagination wonders our queries.
We observe, collect data, analyze the answer.
We decide to act to make mistakes.
Our mistakes are how we learn.